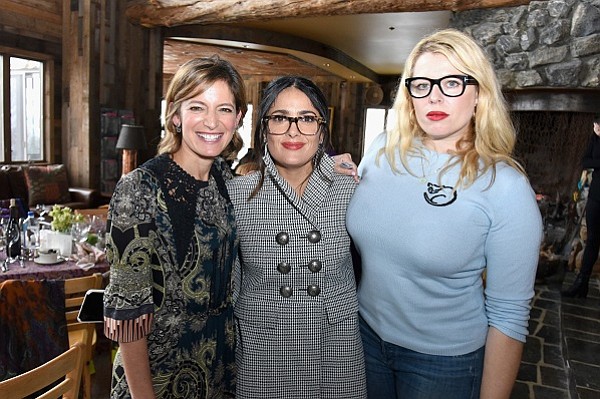 Fete for Female Filmmakers
Glamour magazine and Girlgaze recently hosted an intimate lunch celebrating "Films Powered by Women" at the Sundance Film Festival, where directors, editors and actors had an opportunity to meet, mingle and toast the work of female filmmakers.
Held Jan. 24 at the home of Mimi Kim, the event coincided with the Women in Film Competition, which is sponsored by South Coast Plaza, the Orange County luxury lifestyle center currently celebrating its 50th anniversary.
Glamour Editor-in-Chief Cindi Leive and Girlgaze founder Amanda de Cadenet hosted the event, which drew an impressive crowd, including Salma Hayek, Jill Soloway, Dee Rees, Zoey Deutch, Jessica Williams, Alfre Woodard, Elle Fanning, Shirley MacLaine, Keri Putnam, Dree Hemingway, Lea Thompson, India Menuez, Marti Noxon, Cat Cora, Sarah M. Broom, Kimberly Peirce, Ry Russo-Young, Lily Baldwin, Michaela Watkins, Michelle Morgan, Elvy Yost, Geralyn Dreyfous, Sanaa Lathan and Natalie Joos.
Glamour's recently launched its Powered By Women initiative, in which the publication plans to collaborate with female creative talent in the coming year—and beyond. The initiative kicked off with the magazine's February issue, which was created entirely by women.
"At Glamour we are committed to supporting the work of women in all fields, and it's exciting for us to gather this incredible group to talk about how we can collectively help bridge the gender gap in Hollywood," said Cindi Leive, Glamour editor-in-chief, in a statement. "This year we are especially proud to be partnering with Girlgaze, the initiative to support young female photographers. We'll continue to work with Girlgaze this spring on material ways to help create jobs for female directors."
Girlgaze is an organization founded to close the gender gap in film "by putting more female-identifying individuals behind the lens, to tell their stories and be fairly compensated for their work," said de Cadenet.
According to the group, women made up only 17 percent of all directors, writers, producers, executive producers, editors, and cinematographers in the top 250 domestic grossing films in 2016.
"I don't want to get a job because I'm a girl. It's condescending," said Hayek. "Let's not waste the time on what has been done to us in the past. Let's show them a perspective of a better future. The movies that we do for example, have to tell our stories. We have to push ourselves to be so creative. To support ourselves and gain knowledge, to reinvent, to not repeat."