As of Thursday, July 6, 2017
Photo Gallery
Candiani, Albiate 1830 and Matias Showcase Italian-Denim Innovation in LA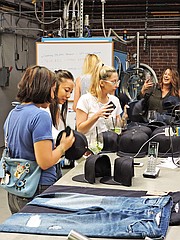 ITALIAN-MADE, LA-DESIGNED: Fashions made by LA-based Matias Denim and featuring fabric by Candiani and Albiate 1830 were displayed throughout the Candiani Los Angeles Design Center in downtown Los Angeles. Guests had the opportunity to hand-sand denim caps made from Candiani and Albiate 1830 fabrics and then take the caps over to the Jeanologia laser-finishing station to have the caps etched with custom messages. | Photos by Alison A. Nieder
Albiate 1830, the denim division of Bergamo, Italy–based Italian mill Gruppo Albini, and Italian denim mill Candiani joined forces to create FineFusions, a collection that showcases "top Italian heritage, cutting-edge thinking and a virtuous spirit."
The Italian mills turned to Los Angeles designer Matias Sandoval, owner of Matias Denim, to create a collection using fabrics from both companies.
The results were on display at the Candiani Los Angeles Design Center in downtown Los Angeles on June 30, where a group of local denim heads gathered to check out the collection, drop in on denim wash demonstrations and do a little DIY denim finishing of their own on special caps created using Candiani and Albiate 1830 fabrics. Party guests distressed their own caps before heading to the Jeanologia laser-finishing station to have custom messages etched into the final product.
LA denim brands make up a sizable percentage of business for Candiani, which has a similar Design Center at its headquarters in Robecchetto con Induno, Italy. Last year, Candiani opened the Los Angeles space to serve as an R&D center for U.S. denim labels to work with Candiani technicians on new wash techniques using equipment such as the Jeanologia laser-finishing machine, a spraying booth and stations for hand-finishing jeans. According to the company, the Candiani Design Center uses less water than the standard dry cleaner.