As of Tuesday, July 18, 2017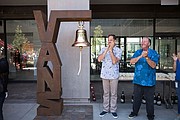 It was two years in the making. But footwear and apparel titan Vans recently unveiled a new headquarters in Costa Mesa, Calif.
In a nod to the brand's storied past, the exterior of the new, three-floor building features a checkerboard graphic reminiscent of the pattern that appeared on an iconic sneaker that Sean Penn wore on 1982 film "Fast Times at Ridgemont High." The headquarters is located at 1588 South Coast Dr. in Costa Mesa, which is 13 miles south of Vans' former headquarters in Cypress, the city continues to be a headquarters for companies such as Manhattan Beachwear.
Plans for the headquarters were announced in June 2015. A company statement said that Vans outgrew its former headquarters and needed a place where it could handle more growth. 2015 media reports said that Vans' revenue passed the $2 billion mark. Recently, 550 Vans employees moved into their new digs, which is focused on being an environmentally sustainable building.
From the 405 freeway, the solar panels of Vans' one megawatt carport solar array installation are visible. More than 4,000 solar panels on the array will provide 50 percent of the building's energy needs. The headquarters will offer 38 electric vehicle charging stations. New water fixtures will increase water efficiency. The building's lighting as well as heating and cooling systems are forecast to boost energy efficiency by 48 percent more than building code requirements.
The headquarters is currently undergoing a process by the U.S. Green Building Council to certify it as an environmentally friendly LEED building.
The new headquarters plans to build a friendly atmosphere into the building's design. There's a game room and a barbecue area for corporate lunches. Yoga studios are available, as well as a gym. Outdoor wi-fi is offered so people will be able to work away from their desks when inspiration hits. In front of the building, an "Employee Achievement Bell" is installed. The bell will ring every time an employee achievement is announced.