IMPORT/EXPORT
Cargo Container Traffic Could Hit Record Numbers This Summer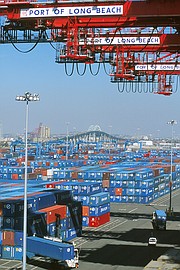 Protectionist talk may be in the air, but imports are still arriving at our doors.
With the U.S. economy in its eighth year of recovery, cargo-container volumes at the nation's ports are expected to be at an all-time high as retailers head into the Back-to-School season.
According to the monthly Global Port Tracker report, released by the National Retail Federation, July and August should be two of the busiest months ever seen for cargo-container imports.
"We're expecting retailers to import some of the largest volumes of merchandise ever," said Jonathan Gold, the NRF vice president for supply chain and customs policy. "That's a good indicator of what could be ahead for consumer demand and retail sales, and it's a sign that retail is going strong despite what you might read in the headlines."
Major U.S. ports handled 1.72 million 20-foot containers in May, the latest month for which after-the-fact numbers are available, which was up 6.2 percent from the previous year.
It is estimated that in June, 1.66 million containers will arrive at ports, up 5.3 percent from last year. July is forecast to see 1.71 million containers hit the docks, up 5.1 percent from last year.
August will also see gains with 1.75 million containers being offloaded, up 2.2 percent from last year. As the Back-to-School season winds down, September should experience about 1.66 million containers being processed at ports, up 4.3 percent, and October should experience 1.71 million containers, up 2.2 percent.
On a different note, November could see a 2.7 percent drop from last year with 1.6 million containers.
The August figure could be the highest monthly volume recorded since the National Retail Federation began tracking imports in 2000, topping the 1.73 million container mark seen in March 2015.
The 1.7 million-plus numbers seen in May, July, August and October represent four of the six busiest months in the report's history.
The first half of 2017 is expected to see 9.63 million containers coming in, up 7.1 percent from the first half of 2016. Cargo volume for 2016 totaled 18.8 million containers, a 3.1 percent rise from 2015, which increased 5.4 percent from 2014.
Economist Ben Hackett, founder of Hackett Associates, which prepares the Global Port Tracker report, said the increases in imports have come despite threats by the Trump administration to impose new limits on international trade.
RELATED STORIES