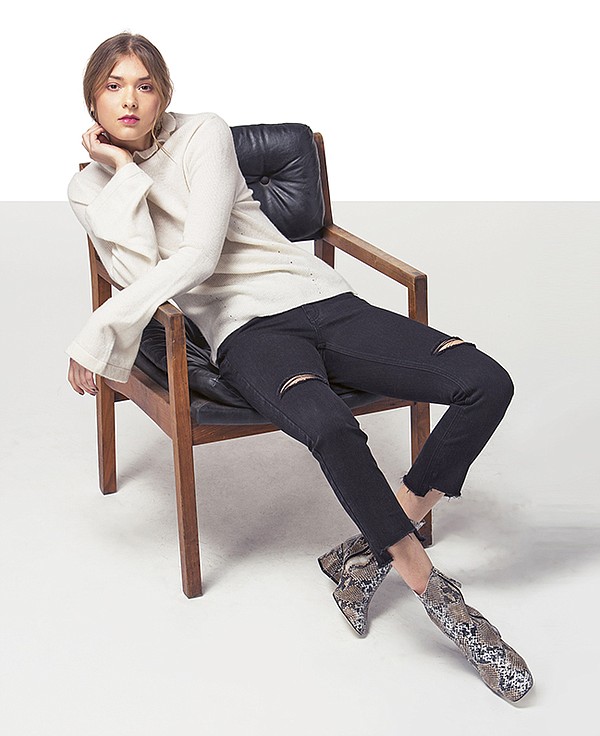 EDGEMINE
Edgemine Goes Premium with Evidnt Los Angeles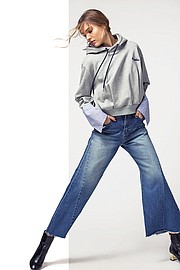 After more than 20 years in fashion, the Edgemine company launched its first denim line intended for a women's premium-denim market.
The line, Evidnt Los Angeles, was picked up by Nordstrom and Anthropologie for its first delivery, June 30, said Michelle Bartlett, the contemporary sales director of Edgemine, headquartered in Los Angeles.
Edgemine executives brainstormed the idea for Evidnt after finding what they believed to be ample room in the denim market. It's a denim line with a premium look that is retailed under $100 and has a point of view, Bartlett said.
"It's LA style with a European substance. Edgemine is always looking on the runway for inspiration, but it's wearable and comfortable," she said.
Detailing is kept simple. The debut delivery's nods to fashion include high-waist silhouettes and embroidered styles. Evidnt's significant pieces include the "Hermosa" crop pant. The paneled jean features a single seam going down the middle of both legs. Bartlett said that it looked like a denim pant that had been pulled apart and reconstructed. The brand will offer many different washes but just a few silhouettes for each category. One "Hermosa" pant comes in a basic light wash with light whiskering and abrasions. Other looks include denim shorts with a relaxed fit.
Evidnt is designed in Los Angeles and manufactured overseas. The brand is forecast to produce 40 to 50 SKUs a month. The collection also includes T-shirts, jackets, dresses and jumpers. There's a dress with a striped print, tops with asymmetrical necks and hems, and a top with a cowl neck that can be unbuttoned and styled in several ways.
For more information, email hello@shopevidnt.com.