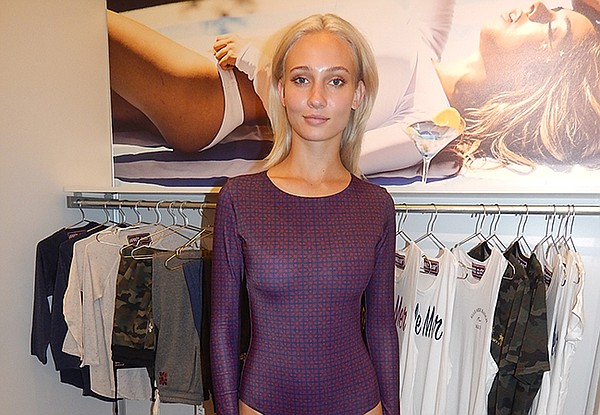 SWIM COLLECTIVE
One-Piece Swimsuits a Popular Trend at Swim Collective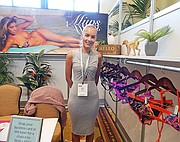 Trim models swiveled from front to back to show off the newest bikinis and one-piece suits created by swimwear designers. Serious buyers on the hunt for the latest in poolside fashions crowded into booths as an explosion of colorful prints and solid colors ran across the ballroom that housed the latest Swim Collective in Huntington Beach, Calif.
The semi-annual swimwear trade show, held July 11–12, took place at the Hyatt Regency Huntington Beach Resort & Spa, appropriately located across the street from the beach where the ultimate wearers of these fashions were hanging out.
This year, the swimwear show was held a few weeks earlier than normal and right before the big Miami Swim Show in Florida. Organizers said the earlier time slot did put a slight damper on exhibitors participating in the show and on buyer attendance.
Jane Preston, the show's vice president of sales, said the event had 165 booths, down about 40 booths from one year ago when it took place Aug. 8–10. This year there were 122 exhibitors showing 224 lines. "The drop in booths is date related," she said.
The earlier date was scheduled by the show's previous owner, Shannon Leggett, who nearly one year ago sold the Swim Collective and its sister Active Collective trade show to Emerald Expositions, an event organizer that also owns Surf Expo, Outdoor Retailer, the Imprinted Sportswear Show and the SIA Snow Show.
Next year, organizers said, the Swim Collective show will be held a few weeks later in the summer.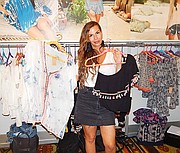 Swim Collective is a popular trade show for new as well as long-established swimwear companies and brands. Manhattan Beachwear occupied the largest booth on the floor to accommodate its growing stable of brands, which include La Blanca, Ralph Lauren Swimwear, Nanette Lepore, Green Dragon, Kenneth Cole, Lucky Brand and 24th & Ocean.
The vast area was humming with activity as buyers viewed the Southern California company's latest offerings. "We've had a lot of traffic," said Kevin Mahoney, the company's chief executive officer, who recently had been at Mode City, the lingerie and swimwear show in Paris, where he found a European distributor for the Polo Ralph Lauren line.
Buyers at the Manhattan Beachwear booth were from big stores such as Nordstrom as well as e-commerce sites such as Zappos.com. "We've seen all the West Coast swimwear stores such as Sylvia's Swimwear in Seattle and Diane's Beachwear," Mahoney said.
All throughout the show, exhibitors said that one-piece suits were a big draw. That was true for Mia Marcelle, the swimwear line based in Napa Valley, Calif. "We have our staple of two pieces that have been successful, but we have gotten a lot of response to our one-pieces. Also our cover-ups are doing well," said Danielle Felzer, the Mia Marcelle sales representative.
She observed that buyers were often taking extensive notes then deciding later about what orders to place. "But if they see something that catches their eyes, they write it," she said.
Buyers were being drawn to the vibrant colors in the Mia Marcelle collection, which took its inspiration from the colors and designs of Morocco. People were attracted to the label's palette of burgundy, dusty rose, dark green and gray blue.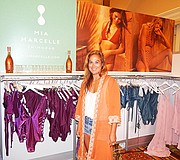 Color was also a big draw to the Bleu by Rod Beattie swimwear label, created by Los Angeles designer Rod Beattie. Sales representative Ric Hulsey said buyers were particularly attracted to the aubergine hues in the collection as well as the bright solid colors of red, blue and turquoise. Also hot sellers were one-piece suits, Hulsey said.
Exhibitors noted that retailers are growing more price sensitive. Debrah Vanchura, the key account manager for Arena, the Italian label known for its competitive swimwear, was at the show to introduce to the U.S. market a new one-piece shaping swimsuit that has been selling well in Europe for the past three years. It is called Bodylift, with panels, adjustable straps and chlorine-resistant fabric with 32 percent Lycra. The retail price of $60 to $70 is an attractive plus to swimwear store buyers who see other shape swimwear selling for $120 to $150.
Vanchura was also introducing a new two-piece Arena collection that was meant for the athletic woman. The RuleBreaker mix-and-match collection had an abbreviated silhouette but had drawstring chords on the tops and bottoms to make sure bikinis didn't ride up when playing volleyball or surfing. It, too, was attractively priced at $30 a piece at retail.
Price was a big draw to the Surf Gypsy. "My line is price conscious and retails for under $100 for all our cover-ups, dresses and rompers that are high fashion and have cute trends," said Kimberly O'Connell, Surf Gypsy's sales manager for the company, based in New Jersey.
The boho influence in the line was emphasized by the Moroccan ottomans and textiles scattered around the large booth. O'Connell said buyer traffic was a bit slower than normal because of the earlier show date. It was also a challenge to designers who are still working on their Resort collections coming out in the next couple of weeks.
Swim Collective is always a good launch pad for new swimwear labels trying to get a toehold in the retail world. Anna Knight, who was showing her first collection called MIWS, which is swim spelled backwards, had a small array of bikinis with triangle tops that had very small triangles—the better for sunbathing. "I've met quite a few retailers, who have given me good feedback, but I think you have to have appointments at this show to be successful," said the graduate of the Fashion Institute of Design & Merchandising in Los Angeles.
Also new to the swimwear game was Elle Mer, a luxury collection of one-piece and two-piece swimsuits and cropped rash guards whose owners, Keri Ogden and Stephen Haugse, are based in Maui, Hawaii. This was their first trade show for the line made of Italian fabric containing recycled polymide that is chlorine resistant and has an Ultraviolet Protection Factor of 50.
Haugse said they were invited to the show at the last minute and decided only two weeks ago to attend. Because they hadn't set up any appointments before the show, they didn't see many buyers. "I feel people are destination bound," he said.