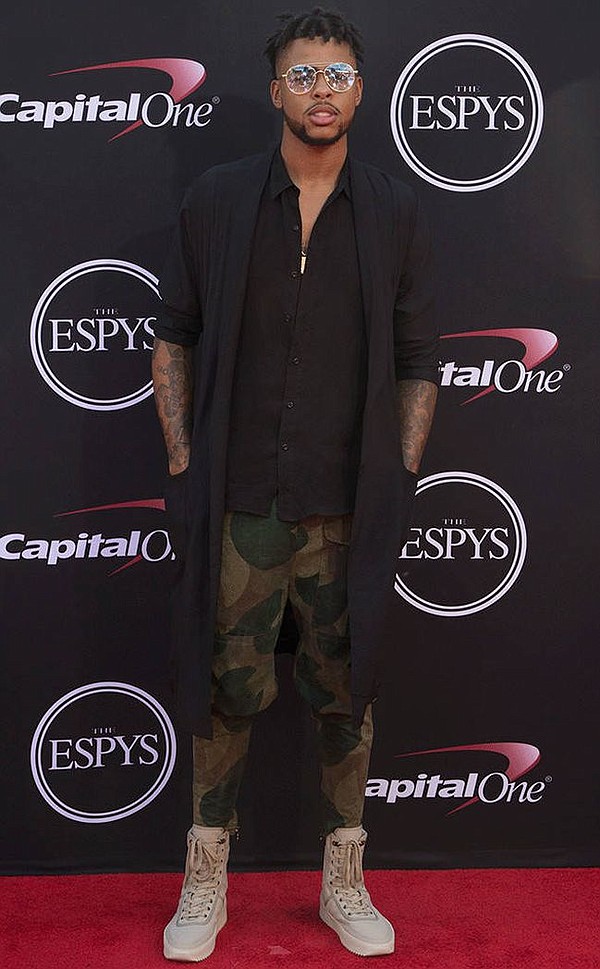 Waraire Boswell's Refined from the Raw Challenge
Waraire Boswell has been cutting up Los Angeles' custom clothing scene for some time. The NBA-sized clothier made a splash at the ESPYS awards show July 12 when D'Angelo Russell of the Brooklyn Nets came to the ESPYS in Los Angeles wearing a suit Boswell made as part of a challenge.
1800 Tequila worked with Boswell on the "Refined from the Raw" collaboration. The challenge was for Boswell to construct a red carpet suit made out of raw materials. In this case of the suit, it was camouflage fabric.
For the awards show, Boswell separately made suits for jocks Mike Conley of the Memphis Grizzlies and Andre Iguodala of the Golden State Warriors. Iguodala was recently placed on Sports Illustrated's list of best dressed professional athletes called The Top 20. Misty Copeland of the American Ballet Theatre and Cristiano Ronaldo of Real Madrid soccer team are also on the list. The Oklahoma City Thunder's Russell Westbrook led the list at first place.