MANUFACTURING
How the Apparel Industry Is Coping With Higher Minimum Wages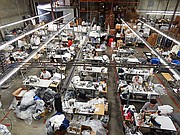 The introductory video on the Tianello website talks about how the Los Angeles clothing maker's collection of Tencel and silk tops lovingly passes through 100 hands before ending up in someone's closet.
Images are shown of workers cutting fabric, passing it through sewing machines, trimming loose threads and inspecting garments before they are packaged and shipped to a store or online customer.
But those hands are getting more expensive. As of July 1, the minimum wage in Los Angeles for medium-sized companies with more than 25 employees went from $10.50 an hour to $12 an hour.
With 60 workers at his company, Tianello founder Steve Barraza calculates the pay increase will cost him about $120,000 a year. But he is not passing on that additional cost to his customers right now. Instead, he is whittling away at his bottom line to trim costs here and there.
"Retail right now is not good for bricks-and-mortar operations," he said from his factory just south of downtown Los Angeles on Main Street. "I'm looking at lowering fabric costs and watching consumption of raw materials going into a product."
He also is reexamining the number of trade shows he attends—eliminating unprofitable shows and concentrating on the lucrative ones.
In addition, more attention is being shifted to his direct-to-consumer website, which does a heavy made-in-the-USA marketing campaign that talks about how every worker's hands are respected for their years of talent and wisdom touching each piece created in the Tianello factory. "We know these hands. We know their names, and we know their story," the video says, showing employees at sewing machines and workers carving out fabric on a cutting table.
Yet the Tianello owner wonders how much longer his made-in-the-USA story can continue. "I am looking at China," Barraza said. He already buys his silk fabric in Shanghai, where he is constantly approached by factories to do production. But he doesn't like the long lead times and he likes being 10 to 15 feet away from any problems. "I really enjoy having my own factory," he said.
This constant challenge to balance rising wages with wholesale prices is eating away at many Los Angeles apparel factories hard hit with more than 5,000 store closings this year across the country. With e-commerce websites cutting into traditional retailers' profits, clothing prices continue to slide as merchandise is constantly on sale to attract shoppers.
Los Angeles is still the largest apparel manufacturing hub in the United States, but every year the numbers shrink. Most recently, Los Angeles County had 35,100 apparel manufacturing workers in May, down nearly 33 percent from 45,400 five years ago.
But keeping apparel workers employed is hard when California has one of the highest minimum wages in the country, surpassed only by the $12.50-an-hour minimum wage in Washington, D.C., or the $13-an-hour rate in Seattle.
Additionally, pockets of California are carving out their own minimum-wage increases. In Emeryville, the minimum wage for companies employing more than 55 workers is $14.82 an hour while San Francisco raised its minimum wage on July 1 from $13 an hour to $14 an hour.
The San Francisco minimum-wage hike really hit Firuzé Hariri, whose company makes colorful crinkled blouses that wholesale for $65 under the Beluva label. She already had her prices set for her Fall collection before the minimum wage went up. So any price hikes in the 13 percent to 14 percent range will have to be made for the Spring 2018 group. "Right now, we are going to have to bite it," she said.
Hariri is whacking away at some of her operational costs, such as her electricity bills and Comcast expenditures in the office, which employs eight people. "We are cutting corners," she said.
Keeping it local
Jin Ryee, who has been making print-based athleisure garments under the Aimee M label for four years, prides himself on his all-domestic production—from the inks used to dye the U.S.-made fabrics he orders to cutting and sewing in Los Angeles. But the minimum-wage rise may be the nudge that forces him to shut down his sewing operations with 21 employees and eight sewing machines. He might have to use outside contractors. "At least I could save on rent," he noted.
He finds that customers are still trying to push back when it comes to price hikes, which he is implementing. "Our expenses are the same or higher, but our buyers want to pay less," he said. "There are a lot of people who come back and ask if we can lower our $34 wholesale price for leggings by $8 to $10," Ryee explained. "I say, 'Go to Ross [Dress for Less].'"
One of the ways some factories are coping with rising prices is to improve efficiencies and buy automated machinery. That is what JS Apparel, with 150 workers, is doing to cope with the rise in minimum wage, which in California will eventually go up to $15 an hour by 2022 for companies with more than 25 employees. Smaller companies have until 2023 to catch up.
Being in Carson, Calif., miles away from Los Angeles, the sewing factory was only subject this year to a minimum-wage bump to $10.50 an hour from $10. But that prompted a 50-cent-per-T-shirt wholesale price hike, said Scott Wilson, vice president of sales.
But price hikes can't always cover rising costs. Gildan Activewear, which produces thousands of its American Apparel T-shirts at JS Apparel, came to the factory and revamped the sewing floor by instituting a modular rather than a linear sewing structure. It is a dynamic that Gildan employs at its huge sewing factories in Honduras.
Modular systems are set up in a circular formation with each garment always being passed to the right to the next sewing-machine operator. "We have reduced our sewing time per shirt by 40 percent to a minute and a half," Wilson said. "But it's only good if you are doing the same thing over and over."
JS Apparel is also investing money in better machinery that does more. Last year, the company spent $250,000 to purchase an automatic cutting machine that doubles the number of pieces cut in a day with one-fifth the labor.
As the sewing factory becomes more automated, JS Apparel may be buying more machines. "We are doing whatever we can to automate and think far ahead," Wilson said. "With wage increases, you have to figure out how to get it back if you can."