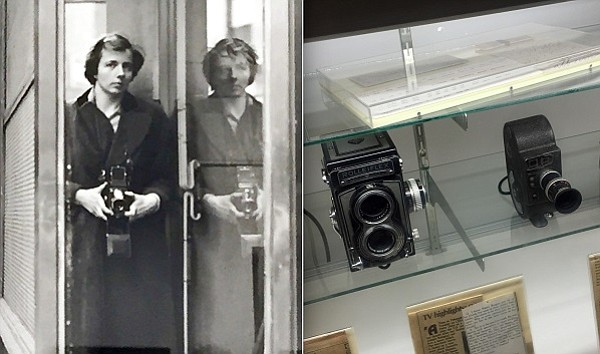 STREET PHOTOGRAPHY
Vivian Maier on La Brea
Excitement filled the air at the recent opening night for the photography works of Vivian Maier at the KP Projects gallery on La Brea in Hollywood. It was a standing-room-only event—literally! Hosted by actor Tim Roth, the collection is provided from the Maloof Collection. Art collectors and photographers to fashion and movie industry people, among others were on hand to partake in the opening night.
The exhibit features an amazing selection of Maier's best-known photos. One of the original street photographers, Maier was known as a very private person, not comfortable in the company of adults (to support herself, she worked as a nanny). Still, her images convey a personal contact with the subjects. That's especially interesting considering she used a Rolleiflex (pictured above), a box-shaped camera that requires the photographer to look down through the viewfinder. Meaning, she didn't need to make eye contact with her subjects. Images ranged from everyday folks busy in their lives to glamour shots of people dressed for the evening and boat cruises.
The collection tells a beautiful story of what she saw in Chicago, New York City and Los Angeles in the 1940s and 1950s. She may have been unknown in her day but is now world-famous with appreciation of her work.
KP Projects is located at 170 South La Brea Ave. in Los Angeles. The exhibit will be on view through Aug. 26.