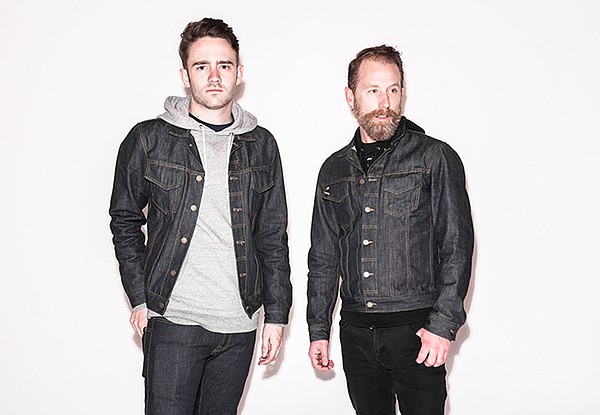 SKID ROW DENIM
Premium Denim Line Works With Skingraft Brand to Knock Homeless Crisis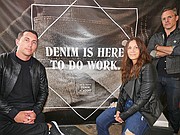 Los Angeles County's homeless crisis has skyrocketed in the past year, with 57,794 individuals counted as homeless by the Los Angeles Homeless Services Authority. It's an almost 23 percent increase over 2016.
Government and nonprofits have sought different solutions to one of the region's toughest problems. One nonprofit, Skid Row Housing Trust, has been developing and managing housing for the chronically homeless. The 28-year-old nonprofit raises money, partially through grants and fund-raisers, for its 26 buildings throughout Los Angeles County. The trust's Brad Robinson thought his nonprofit could raise funds in a uniquely Los Angeles way: design and sell a premium-denim line.
Brands with a philanthropic edge are nothing new, but nonprofits diving into high-end design might be few and far between. The line Skid Row Denim Academy started business in 2016 with a capsule collection called "Heritage," which was comprised of two jeans jackets and two denim pants. They're made with dead-stock denim fabric, sourced in Los Angeles by Pacific Blue Denim Inc. The collection also is sewn in Los Angeles. Downtown Los Angeles brand Skingraft has consulted on the design and manufacturing of this brand, which will give proceeds to Skid Row Housing Trust. Skingraft's chief executive officer, Chris Cota, is on the brand's board.
Until now, the line—including the collection's "Activist" jeans and "Advocate" denim jackets, which are priced from $150 to $200—has been available online at www.skidrowdenimacademy.org and at fund-raisers.
Expect to see more of Skid Row Denim Academy in downtown. On June 10, the line is scheduled to be featured at an event in the Rogue Collective boutique in downtown Los Angeles' Arts District. The Skingraft flagship near the Fashion District will be a retail focal point for the brand. Eventually, Skid Row Denim Academy will be sold at high-end department stores and leading boutiques, predicted Robinson, who is a director of corporate development and innovation for Skid Row Housing Trust. As the line grows, he also forecast that it will employ formerly homeless people.
Skid Row Denim Academy is currently based in a ground-floor space of New Pershing Apartments, a restored Victorian building on Fifth and Main streets in downtown Los Angeles. It is owned and managed by Skid Row Housing Trust. The nonprofit executives who put together the brand were looking for a project that could earn dollars and do more for Skid Row Housing Trust, said Lee Raagas Janc, a board member.
"How do we make a product that brings a solution?" Raagas Janc asked. The line was planned to make money and develop awareness of the homeless crisis. "This thing is just a start. We're still creating a path. If we begin to solve this issue in Los Angeles, where the problem is significant, we can influence other cities facing the same challenge."
Skid Row Denim Academy joins a wave of new businesses that define themselves as philanthropy entrepreneurship. Part of their mission statements is to do business to raise funds for nonprofits. For-profit fashion and lifestyle companies such as Tom's and Warby Parker, respectively, donate shoes and glasses for every product they sell. Other companies, such as Apolis, a fashion line out of downtown Los Angeles, are benefit corporations. They are for-profits that include a positive impact on society as part of the company's legally defined goals.
Philanthropic entrepreneurship resonates with a key group of consumers, said Kenn Henman. He cofounded Los Angeles–based IGXO Cosmetics, which donates 10 percent of its sales to nonprofits. IGXO and some of Henman's other projects link YouTube personalities with philanthropic enterprises. He said that these companies are profitable because they cater to millennials, a demographic every youth-oriented business wants to attract from.
"Millennials are becoming more active politically and socially. It gives them the avenue to purchase something from their favorite [YouTube] star and also to give back a little," he said of philanthropic entrepreneurship. Henman is a former public-relations executive who served in Cambodia in the Peace Corps in 2014. In the late 1980s, he served as a lieutenant in the U.S. Army.
Robinson, a tattooed father of two boys and who previously worked in nightclub management and music licensing, counts Skid Row Denim Academy as his first design gig. Skingraft's Cota consulted, and Scott Meisse, partner in Brand Name Studio, a brand and design consultancy based in Los Angeles, also worked on the project.
The collection is made with raw selvedge denim. The wide-leg pants have no stitching on the back pockets. Instead of a coin pocket, denim academy's pants feature a leather pocket for a smartphone. Both pants and jackets bear black leather patches with the logo of Skid Row Denim Academy. The brand is scheduled to introduce T-shirts this year. Robinson said denim was the best fabric to wrap his cause in. "Denim symbolizes people who roll up their sleeves and work. You don't wash it. It's distressed. It shows how you interact with the world and your community," he said.
Robinson took style inspiration from what the denizens of New York's mid-1970s punk-rock scene were wearing as well as the denim look of rockers David Bowie and Iggy Pop during the period.
Cota of Skingraft also made a limited collection of lambskin leather jackets for Skid Row Denim Academy. The motorcycle jacket for men and women is based on Skingraft's fitted motorcycle jacket. "This is a fresh take on a classic moto jacket," Cota said. "It's been one of our classic looks. But we updated it. We modernized the hardware to make it appeal to a wider audience."
Robinson thought in the case of Skid Row Denim Academy, consumerism can be activism. "This is a great entry point for people to get involved. You get the jeans, you get turned on to the great work that Skid Row Housing Trust has done for the past 25 years. The most important thing anyone can do is to show up. This is how you show up," he said.
Mike Alvidrez, chief executive officer of Skid Row Housing Trust, said that it's going to take a lot more than denim to solve the homeless crisis.
"Rising housing costs and stagnant wages across the county mean that many of our friends, family members and neighbors are one crisis away from living on the street. We will not end homelessness until this economic crisis is addressed," he said.