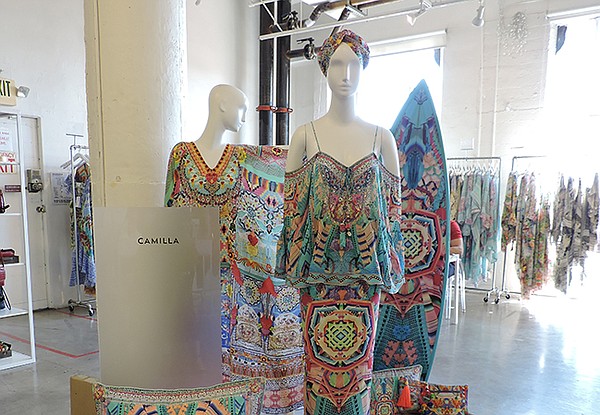 LA FASHION MARKET
Quiet June Market Draws Focused Buyers Ready to Spend
June market in Los Angeles is typically a quiet affair with buyers arriving to wrap up Fall orders and start looking at Holiday goods. Sandwiched between the larger Fall markets in March and the massive Las Vegas trade shows in August, June tends to draw lighter traffic comprised of mostly regional buyers.
The June 5–8 run of Los Angeles Fashion Market was typically small, but several showrooms and reps reported good business from local and out-of-town buyers ready to place orders. Surprisingly, many reported little price resistance and fewer requests for Immediate goods than in recent years.
Busy at CMC
The June LA Fashion Market is traditionally slow, but California Market Center showroom owners said that they were pleasantly surprised with a busy pace of retail buyers making their way through showrooms.
Des Wilson, the women's West Coast manager for The Park Showroom, estimated that the pace of market traffic was busier than the June LA Fashion Market of 2016. "The first two days, we were really packed," she said. The last official day of the market was busy, too. A surprise for Wilson was that there were no cancellations—a frequent occurrence during the market. During the market, The Park debuted the Lisa Maree swimwear line, women's line Stoned Immaculate and the cashmere line Sori.
Melody Fast of Melody Fast Sales said the buzzing business was evidence of an improving retail market. "Obviously, they are selling," she said of retailers. "People were still buying Immediates. They were buying for Fall and they left orders."
Los Angeles–headquartered brand By JJ debuted during the June market at Fast's showroom. San Diego–headquartered brand IPNG made its debut at the Betty Bottom showroom as well. Betty Bottom owner Ernesto Mantilla said that the quality of buyer traffic depended on the quality of brands. "If you have something hat is exciting, [traffic] always is going to be good," he said.
Gila Leibovitch of The Vault family of boutiques in Laguna Beach, Calif., shopped the CMC showrooms. She said the challenging fashion market has shifted in favor of retailers. "As a buyer, I control the buying. Now, I can buy whatever I want, whenever I want."
She said that once-ironclad rules on order minimums are bending and buyers have much more control over the buying schedule.
"I'm buying smaller quantities for delivery. If it does well, I reorder it. By that time I buy it off-price," she said.
CMC management listed stores shopping the showroom building included Madison, Revolve, Nordstrom, Dillard's, LF Stores, Brigade LA, Fred Segal, Kitross, Mod Cloth, Tilly's, Seed People's Market, MGM Resorts, Paris Hotel and The Ritz Carlton.
Along with the action in the showrooms, CMC also hosted contemporary trade show Select in the lobby's Fashion Theater and ALT, an athleisure-focused show in the building's penthouse.
At Select, 25 booths exhibited 35 lines. The Lines of Denmark showroom returned to Select to show Danish fashion. Birmingham, Ala.–based headwear line Aviate made a West Coast debut at the show. Denver-headquartered CoFi Genuine Leather also debuted at Select. The company exhibited its printed leather, which can be used to make customized footwear for its retail partners.
There were 13 exhibitor booths at ALT, including the trade-show debut of The Parks Apparel, an outdoor lifestyle brand that makes 90 percent of its sales through its Instagram page, said Wayne Borromeo, founder and chief executive officer of the line. Chelsea Hughes of the Cantiq LA intimates line said that she did great business at ALT. "I got to reconnect with some accounts. I made a new account in Beverly Hills. I'm a happy camper," she said.
Mixed reports at The New Mart
Traffic at The New Mart was like a tale of two showrooms. Some sales representatives were extremely busy and others barely wanted to talk about market.
Some showrooms were devoid of buyers and others were humming with activity.
"This has been one of the best June markets we've ever had," said Florence Ratzsch, co-owner of the Lynn Girard Showroom, which has been in business for more than 35 years. "Sunday was very busy, and Monday we literally had people out in the hallway waiting to get inside because we had no room. We had to turn away four buyers, and that was with four of us working."
To generate traffic, the showroom employees sent out email blasts, made phone calls and scheduled appointments to view the nine lines they represent.
Ratzsch credits the showroom's traffic to unique products in each of her contemporary lines. Each brand had one or two things that drew in store owners and merchandise managers. Spanx, which is expanding on its line of compression-wear garments, introduced a faux-leather distressed legging that wholesales for $49. It was selling well.
The Eva Varro collection has a slim jacket with silver zippers on each front panel that is made of polyester, rayon and spandex. It is very slimming and never wrinkles. It wholesales for $89. In the last two years, Ratzsch said, she has sold 20,000 of these jackets.
For the first time, the M Made In Italy label introduced a pre-Fall collection with June and July deliveries. The line, which is made of lightweight fabrics but with fall colors, was ideal for California with its warmer temperatures. "This has been a huge success," Ratzsch said.
At the Karen Kane showroom, Joyce Christensen said attendance was heaviest on Sunday, Monday and Tuesday. "I thought it was a well-attended June show," the sales rep said. "I found there was less hesitation to book farther out. We have 12/30 deliveries. People were receptive writing farther down the year."
Buyers were snapping up items made of velvet and anything that had a different sleeve treatment such as bell sleeves and ruffled sleeves as well as cold shoulders and off-the-shoulders looks.
The Karen by Karen Kane sportswear line introduced more activewear elements in its Fall collection, incorporating fabrics that are soft to the touch. "Before it was more weekend wear, and now it includes something you can wear to go to the gym or be out and about on the weekend," Christensen said.
For every busy showroom, there were other showrooms where traffic was scarce. "It was slow," said Valerie Hambas, whose Valerie Hambas Showroom carries a wide assortment of clothing—from intimates and shoes to jewelry and cashmere sweaters. Her eight lines include Custo Barcelona, Papillon Blanc, Plus Cashmere, Free Minds and Blue Canoe.
She estimates that about 55 to 60 buyers showed up, but in the past she has seen a lot more people.
Even opening doors a day before market didn't work out for some showrooms. Judy Wexler at J. Wexler Sales worked on Sunday but only saw two people who had made appointments to see her one line—Mystree, a young contemporary brand based in Los Angeles. She was the only showroom open on her floor on Sunday. "It has been on the slow side," she said of market. Foot traffic was not that abundant, she observed. She relied on appointments for business.
Steady business at the Cooper
Los Angeles Market Week set the stage for a new art show in the lobby of the Cooper Design Space. Bijou Karman, an artist who works at the Cooper, exhibited her colorful portraits of women whose unique faces were wrapped in California settings.
The June market also set the stage for some new showrooms. Accessories brand Bandolier opened a showroom in the Cooper's lobby. The brand offers smartphone cases that can be worn over the shoulder like a bandolier. Previously, the Bandolier brand rented space in third-party showrooms, said Adam Derry, a creative director and partner for Bandolier. He said the time was right for the brand to get a long-term showroom because buyers needed a place to see and feel the product.
Showrooms remain important, but many salespeople said they would be taking their acts on the road after the June market to show their brands to retailers. "Store owners often don't have time to go to shows," said Katie Nichols, a sales rep showing the Retro Brand at the One Girl Agency showroom. Nevertheless, Nichols said the June market traffic was steady.
During the recent market, the Lauren Moshi brand showed mostly Fall looks, said Michael Moshi, the brand's owner. The label works close to delivery dates, Moshi said. Fall looks included embroidered sweaters and detailed shirts. Moshi said the market was steady. "The usual people came through. It was nothing out of the ordinary," he said.
During market, the Subtle Luxury brand, headquartered in Torrance, Calif., introduced a Holiday wrap cashmere shawl, featuring motif prints, said Andrea Zaplin, a West Coast sales representative for the brand, founded by Cindy Freeman. It displayed a giant selection of cashmere scarves as well as coverups and kimonos for its beach-lifestyle division, Pool to Party by Subtle Luxury, in the temporary showroom is opens during every LA Fashion Market.
At the Anonymous 213 showroom, owner Eric Wheeler said the handbag brand Tarryn Simone did very well during market. "I was surprised how many buyers placed orders for it. It is an expensive brand that is not a designer label," he said. Some Tarryn Simone bags retail for $1,600.
Anonymous 213 also celebrated its one-year anniversary representing Australian brand Luxe Deluxe. Wheeler said the brand's sales were 60 percent over its forecast for its Resort collection, which was being sold at the recent market. The brand is popular for its neutral color palettes and its feminine silhouettes.
Quiet June at Gerry Building
Showroom owners at the Gerry Building tried to be humorous when asked about the recent Los Angeles Fashion Market. "What market? This is market week?" one rep said.
Julie Walls, whose showroom is on the ninth floor, summed it up in one word: "slow."
But business was being written with appointments and regular customers. The owners of Chaussure, a decades-old specialty store in Long Beach, Calif., were looking for novelty items that would entice customers through the doors.
"We are looking for fabulous items," said Barbara McElrath, who owns the store with her sister Beverly Patel. "Our customers don't need anything, but they want things."
Chaussure is located near the upscale Naples area of Long Beach, a neighborhood with million-dollar homes perched alongside winding canals where many people have their Duffy boats and motorboats docked.
The store describes itself as an outpost that sells chic and cutting-edge fashion. With that in mind, the store owners were looking at items made by Los Angeles line Mezon, which has an artsy vibe to it, and Lauren Vidal, a French contemporary line with sophisticated silhouettes, both in the Arlene Henry Showroom.
One item that had drawn them into another showroom was a fur-trimmed cashmere sweater. They loved it.
For sales rep Loretta Kendrick, who was showing temporarily at the Arlene Henry Showroom, generating new business was high on her list of things to do. She opened four new accounts during market in California, Colorado and Hawaii. She represents eyewear company Eyebobs, high-end straw hats and purses by designer Eric Javits, women's clothing by French-Canadian line Angela Mara, and moderate wear by Fresh Produce.
Kendrick is seeing a retail market that is still having its ups and downs but is doing better now that the presidential elections are over and the three months of California rain have dried up. "The people who are coming to market are buying," she said. "They need merchandise. I have been selling a lot of Immediates."
Focused at D&A
The mood was upbeat at Designers and Agents, where several returning exhibitors—including the Brothers and Sisters Showroom, Kim White Handbags and Jakett—were consistently meeting with buyers throughout the three-day show. "We love June market," said D&A cofounder Barbara Kramer. "When the buyers are here, we get their full attention."
Business at the Streets Ahead booth got off to a strong start on opening day, said Sales Director Michelle Sack. Most of the traffic was from existing stores, Sack said, but she did open a couple of new accounts. Traffic was primarily local, but Sacks said she saw some out-of-state stores from Texas and Georgia. And buyers were placing orders for Immediate deliveries to "as far out as November."
"I had absolutely no price resistance whatsoever, which is great," she said. "The people who came in were coming to buy."
LA Made is another returning D&A exhibitor. Sales rep Diane Davis agreed that opening day was the strongest. In addition to showing at D&A, LA Made also exhibits in its showroom in the Cooper Design Space. Davis said at D&A she was mostly meeting with existing accounts, but she did land an order from a store she had been trying to reach. In addition to California stores from San Diego, Palm Springs and Long Beach, Davis said she saw stores from Colorado as well. This season, Davis said she saw more online stores coming to market. And buyers seemed to be buying further out than they have in the past.
"They're looking out a bit to Fall and Holiday," she said. "I'm not getting as many Immediates—especially if they've already written the line."
June is also when D&A hosts its Green Room section for up-and-coming and eco-friendly brands.
Among the collections showing in the Green Room was Dylan SV, a luxury handbag line based in Sun Valley, Idaho, and produced in Los Angeles.
Designer Sunny Mills said she wanted to create a line of luxury handbags that were moderately priced and made in America.
"I didn't think women needed to pay $3,000 or $4,000 for a Mongolian fur handbag," she said, adding that she wanted to launch a line that would also create jobs in the U.S.
Dylan SV bags are wholesale priced from $200 to $800. The bags are made from Italian leather, Mongolian lamb and kangaroo fur and trimmed with industrial metal hardware sourced in Los Angeles.
Kim Tran was in the Green Room to launch her Annam collection of hand-dyed clothing made in Vietnam and wholesale priced from $130 to $180. Tran, who is based in South Pasadena, Calif., sources her hand-loomed fabrics from Vietnam's Hmong hill tribes and works with a studio in Vietnam that employs mute and deaf women to do the hand-stitched details on the garments.
"I believe in the people I'm working with and in the studio," she said. "That's dear to me."
New and returning at Brand Assembly
Brand Assembly got off to a brisk start on the top floor of the Cooper Design Space, where a tightly edited mix of returning and new brands showcased their latest collections.
The booth for Australian lifestyle line Camilla wrapped around one corner of the trade show where sales representatives Samantha McKay and Saville Dorfman showcased the resort-themed collection of caftans, dresses, sportswear and accessories. The booth also included some of the Camilla home décor pieces in the brand's signature original prints.
On opening day of the show, McKay and Dorfman met with several stores from California, as well as a few from out-of-state, including a new account from Portland, Ore.
"We have a strong team helping find the right stores that fit our aesthetic," Dorfman said. 'We take care of our distribution. We give them that Camilla love."
This was the first trade show for Josa Tolum, a travel-based collection that splits its time between Tolum, Mexico, and Los Angeles' Venice neighborhood. Founder Joanne Salt has three Tolum boutiques in Mexico and an online store. To launch the brand's wholesale business, she opened a showroom in Venice under the direction of Josa Chief Executive Officer Jason Ferro and tapped longtime sales executive Jason Bates to help introduce the line to retailers. The company is targeting resort stores and luxury hotels.
The collection reflects Salt's own aesthetic, which is inspired by her current home in Tolum and her travels between Mexico and New York and Los Angeles. For example, Salt will wear one of the collection's easy dresses or jumpsuits while in Tolum and then pair it with a leather jacket and heels when she's in the U.S. Wholesale prices range from $60 to $110. The company can turn product in two weeks in its own factories in Mexico, Salt said.
Katharine Marinaro returned to Brand Assembly with the latest Verdad collection, designed by LA designer Louis Verdad. Marinaro said she saw some new stores—including retailers from Alabama and Austin—and saw "all my regular people."
Natalie Brougham, account executive for Ameriex Group, was showing Red Carter swimwear as well as Red Carter apparel and Dolce Vita apparel at Brand Assembly. She said she saw a mix of existing and new accounts at the show, with several leaving orders.
At the booth for Dolce Vita footwear, buyers were vying for space to view the collection on opening day.
By the end of the three-day run, Dolce Vita rep Derek Delgado declared the show "amazing."
"This is the first time we've done the show in June," he said. "It surprised us how well it's going—even with a smaller show."
Delgado said part of the reason for the brisk business was he was showing several seasons at Brand Assembly, including Summer, Fall, Holiday and pre-Spring '18.
According to Hillary France, cofounder and chief executive officer of Brand Assembly, traffic at the recent market was up 40 percent over last June.
"We had people from North Carolina, Kansas and New York," she said.
Next up, Brand Assembly heads to Dallas Market for the first time. The June 14–15 show will be held at Nasher Hall, an art gallery located near FIG (Fashion Industry Gallery) in Dallas. Brand Assembly will ferry buyers between the two venues in golf carts, France said.