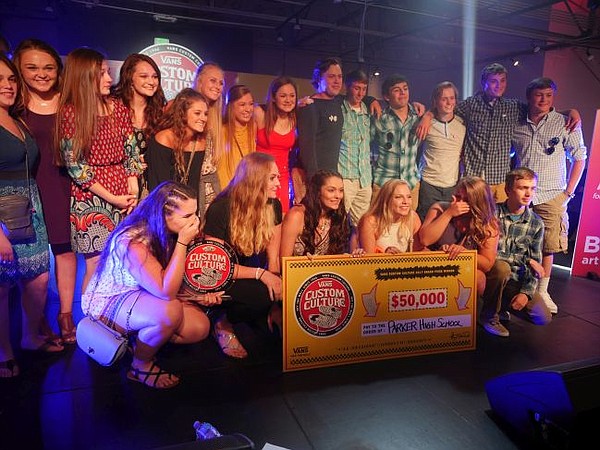 Small Town High School Wins $50,000 Prize from Vans
Parker City, South Dakota is a one stoplight town, but its arts and fashion potential is enormous.
An arts class from this small town's high school, Parker City High, beat 3,000 other contenders from across United States to be named as the grand prize winner of the 8th Annual Vans Custom Culture art competition sponsored by the Vans footwear and apparel brand. Kids from Parker and their arts instructor Dave Fuller were awarded a whopping $50,000 for the school's arts education program on June 7 at the H.D. Buttercup Loft in downtown Los Angeles' Arts District.
Other finalists were Fontainebleau High School in Louisiana, near the Alabama border, Friendswood High School in the Houston metropolitan area, Ridley High School, based in a county near Philadelphia and Will C Woods High School in Vacaville, Calif. Each were awarded $4,000 to support their individual arts programs.
Participating custom shoe designs were judged by overall creativity, relevance to a theme and execution, according to a brand's statement. Judges included designer Jayne Min, pro-surfer Leila Hurst, pro-skater Lizzie Armanto and Rian Pozzebon, Vans director of footwear color and trend. The competition's program partners were Laguna College of Art + Design, Americans for the Arts, Blick Art Materials and Journeys.
Vans flew students from the top five final high schools to a week-long all-expenses paid trip to Los Angeles.