RETAIL
Z Supply Opens In-Store Shops at Sunny Days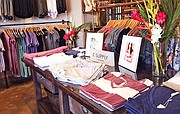 Irvine, Calif.–based Z Supply recently opened its first in-store-shop concept in the Sunny Days boutique on Balboa Island in Newport Beach, Calif., with plans to open a second in-store shop at the Sunny Days boutique in Orange, Calif.
To kick off the first opening, Z Supply and Sunny Days hosted a grand-opening party where shoppers and guests enjoyed acai bowls from Amazebowls and a gift with purchase.
The Z Supply in-store shop takes up approximately 200 square feet of space in the Balboa Island shop and can carry up to 500 units of Z Supply product.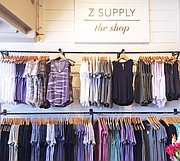 "We have had incredible success with the Z Supply brand and with this new curated shop-in-shop concept we will be able to expand the popular product offering to our customer," said Deanna Frieze, founder of Sunny Days, in a statement. "Z Supply will help direct us on bestsellers, manage inventory as needed as well as help us market the brand to our customers."
Founded in 2011, Z Supply LLC has a growing portfolio of brands, including Z Supply, Black Swan, White Crow, Others Follow, Icons of Culture and Rag Poets.
A former clothing rep, Frieze opened the first Sunny Days boutique in 2010. Today the company runs a fleet of five Sunny Days stores across Southern California. The retailer specializes in a mix of "timeless," international brands that reflect the "easygoing coastal lifestyle" and the personal taste of the Sunny Days shopper.
RELATED STORIES