As of Thursday, June 15, 2017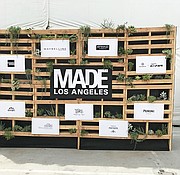 The Made LA festival mixed runway shows, music performances and fashion vendors selling everything from boots to T-shirts when the event held its sophomore run over the weekend of June 10. After the vendors broke down their stages, other companies were waiting in the wings to produce their own events, which would mix general public festivals with fashion events that were typically VIP-only in the past.
"This is not about creating a super-private event for 200 editors," Veronica Welch Kerzner, president and cofounder of Style Fashion Week, said of the new format of fashion events for VIPs and the fashion public. "It's about creating an event for the industry and consumers where major brand awareness—and sales—can be created."
Style Fashion Week will produce an event that will include concerts, runway shows, art exhibitions and fashion vendors in October at the Pacific Design Center in West Hollywood, Calif. Tickets for the event will be sold for $25 for general admission and $1,500 for VIP access, which includes bottle service, a special viewing area for the ticket holder and the holder's party as well as meet-and-greets with designers. An estimated 25,000 people are forecast to attend Style Fashion Week's October series of events.
Like a traditional runway producer, Style Fashion Week does give free passes to fashion press and VIPs. But Welch Kerzner said that it is only a matter of time before the majority of runway-show producers will be creating events that mix public access and traditional VIPs.
In July, the Agenda trade show is scheduled to add the first consumer day to its previously trade-only event in Long Beach, Calif. Tickets for the event, called the Agenda Festival, will cost $45. Ticket buyers can gain access to more than 500 pop-up shops from streetwear, action-sports and lifestyle brands; performances by hip-hop artists Tyler, the Creator, Ludacris and Cam'ron; and panel discussions on fashion, music and business.
In November, Reedpop, a division of Agenda's parent company, Reed Exhibitions, will host the second run of ComplexCon in Long Beach. Again, fans will buy tickets to shop pop-up shops produced by their favorite brands and watch performances from rappers and DJs. An estimated 25,000 people bought tickets to the inaugural ComplexCon in 2016.
While traditional fashion weeks always create a buzz, they have been consistently criticized for not being profitable. Runway shows can cost anywhere from $5,000 up to the millions to produce, Welch Kerzner said. Before the Internet era, retail buyers placed orders for clothes during or shortly after fashion weeks. These days, few retailers order off the runway. But there remains an industry of runway-show producers and a public still eager to see them.
Adam Derry, a designer, retailer and veteran attendee of runway shows and trade shows, believes that a transition to consumer events is overdue. "Most retail and runway events are for consumers, not fashion press, insiders or buyers," he said. "It's why fashion week had lost its luster. It's not as exclusive." Derry is founder of Los Angeles–headquartered design and branding consultancy ADBD.