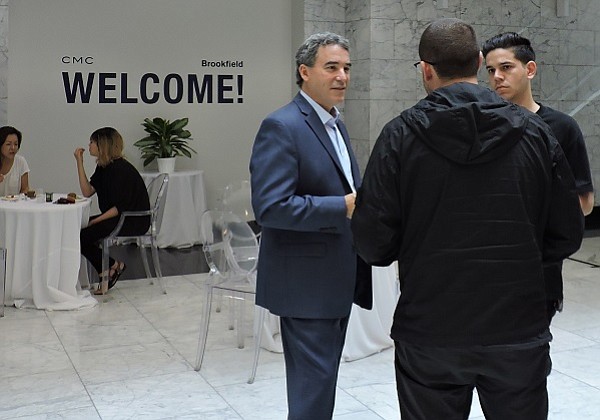 Brookfield Takes Over at CMC
The new management team at the California Market Center hosted a meet-and-greet breakfast for tenants following the closure of a deal between CMC owners Jamison Services and Brookfield Properties, the real estate giant that runs properties such as FIGat7th and Bank of America Plaza.
The June 19 event was held in the lobby of the building, where current and former CMC tenets met with Brookfield staff, including David Foley, Brookfield's vice president operations and the new general manager of the CMC. Foley, who was involved in the redevelopment of Figat7th, has already moved into his new office in the CMC. Attendees were treated to a full breakfast spread, including egg strata, avocado toast, fresh coffee and an assortment of aguas frescas.
Brookfield intends to "significantly invest in and transform the California Market Center into a 21st-century creative, mixed-use office campus," according to company materials.
Plans call for maintaining the 1.8 million square foot complex's position as a venue for wholesale apparel industries and trade events, while also introducing creative office space and retail.
"Drawing wholesalers and trade events from across the region, the California Market Center—which now stands at the epicenter of downtown Los Angeles' rising 24/7 live-work business district—has a long and impressive history of promoting commerce and creativity in the heart of our city," said Bert Dezzutti, Western Region executive vice president for Brookfield Office Properties, in a company statement. "We are excited to usher this storied business center into a new era, reflective of the recent success of the surrounding neighborhood, while establishing it as the premier center in LA for creative tenancy."