As of Wednesday, June 21, 2017
Calling all nerds. If you were addicted to the Mario Bros. video games in the 1980s, you will be a fan of the new collaboration between LeSportsac and Nintendo.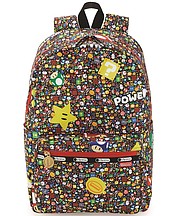 The two companies have joined creative forces for LeSportsac to make backpacks, totes and accessories that are colorful and filled with Mario Bros. images, reflecting the many strange places that Mario and his brother Luigi traveled in pursuit of classic foes such as Fire Flowers, Super Mushrooms, Super Stars, Goombas and Koopas.
Mario was an Italian-American plumber who, with Luigi, started out defeating creatures that came from the sewers below New York City. From there, the venue expanded.
Over the years, Mario traveled to special places such as the Mushroom Kingdom and beyond. With Mario's penchant for exploration, LeSportsac took that vagabond spirit and translated it into on-the-go-styles and prints that have travel memorabilia such as luggage tags, passport stamps and postcards on a bright red background.
The collection launches in Japan on July 19 and makes it to the United States this fall.