MANUFACTURING
Alternative Founder Returns with M/f people Brand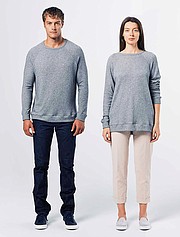 Greg Alterman founded blank-T-shirt company Alternative Apparel in 1996, and he had grown it into a $74 million enterprise when he left it in early 2013. He next made headlines as the cofounder of Juice Served Here, a high-end cold-pressed juice and beverage maker that runs 10 stores in Los Angeles and Orange counties.
His latest venture brings him back to the apparel industry. His new lifestyle brand, M/f people, is scheduled to take a bow June 23.
M/f people is headquartered in West Los Angeles and is a return to manufacturing T-shirts and basics clothing for the serial entrepreneur.
M/f people will not only offer T-shirts, hoodies and sweatpants, it also will offer skin-care and hygiene products and eventually homewares and accessories as well as food and beverages, Alterman said in a phone interview. The clothes aim to be gender neutral, which is the inspiration for the brand's moniker. The brand is not specifically for men just as it is not specifically for women. It's for people, Alterman said.
While the line's sweatpants are gender specific, the great majority of the line's 87 items are meant to be gender neutral, and the line's future categories, including underwear, will be gender neutral. "The world is ready for this. I want to be the brand in the world that stands for it the most," Alterman said.
Discussion of gender roles is currently in vogue. TV show "Transparent" features a transgender lead character and has received a lot of critical acclaim and won the Golden Globe award for best comedy series in 2014. This year, H&M introduced a unisex collection, Denim United. Many other fashion brands have been exploring this creative territory, said Monica Reyes, a creative director who has worked with emerging brands in Los Angeles.
"It's taking a wide stance in the market," Reyes said. "It's everywhere. If people want to define if it's genuine or not, it's up to consumers."
The new brand also takes inspiration in Alterman's drive for simplicity, which started with a health scare in 2015. Alterman suffered a brain hemorrhage. He survived only because of the lightning-quick speed of paramedics getting him to a hospital and excellent care by a team of neurologists. He also rebounded to regain his previous good health.
Alterman had to convalesce for a period of nine months. He spent a lot of time thinking about the daily routine of his family, and he thought it was too busy and cluttered, even when it came to skin-care products and clothing.
"We have double and triple the things we need," he said. "We all need to simplify and purge, then you can manage your daily essentials from one company that you can trust and know intimately."
The new brand will attract those with a minimal design aesthetic.
"We've gone into less detail in our items," Alterman said. "We do not offer anything that is not necessary. It's a difficult design to do. It's a better design. Its innovation by deletion."
For M/f people's skin-care products, he worked with Rob Goldfaden, a career skincare business entrepreneur. Goldfaden is an advisor to M/f people. The skin-care products are made in Miami and Los Angeles.
Joining M/f people's clothing division is Tiffani Williams, who worked with Alterman in product development for 10 years at Alternative Apparel. Williams serves as vice president of operations for M/f people. Currently, M/f people apparel will be sold through the company's direct sales site ( mfpeople.com). Retail price points will be $44 to $135.
The clothes will be made with Peruvian Pima cotton and manufactured in Peru. Also featured in the line are proprietary yarns that will give some of the clothes a unique texture. Fabrics include jersey, French terry, long-loop French terry, linens and woven fabrics. The collection will feature T-shirts, sleepwear, sweatpants, sleep pants and, sometime in the future, underwear and socks. To offer clothes for a wide range of people, sizing for basic items runs from extra small through extra large.