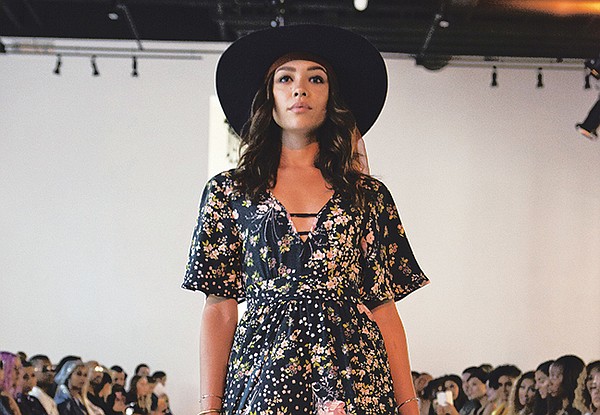 BRIGADE LA
Maggie Barry, Kunst NYC and Band of Gypsies Take The Runway
Photo Gallery
Maggie Barry, Kunst NYC and Band of Gypsies Take The Runway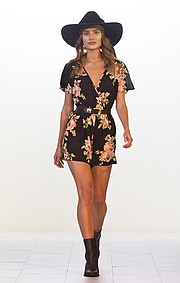 Photos by Jeff Linett
Downtown Los Angeles' Brigade LA boutique turned itself into a runway on June 18 with a fashion show that served as a platform for an emerging brand with a performance-art angle, a new line meant for the international music-festival circuit and a contemporary brand with looks inspired by the 1960s.
During his days of making graffiti, designer Chris Mena went by the tag "Kunst," which is a German word for "art." Mena set his eye on fashion at Rhode Island School of Design, the alma mater for Obey's Shepard Fairey and the place where members of the influential band Talking Heads met.
Mena ripped all of his wardrobe's clothes up and reassembled them in an avant-garde, hip-hop way. The act of design was intended to have a performance-art edge. His custom-made line, Kunst NYC, gained attention when he displayed the looks at RISD's showcase during New York Fashion Week in 2016. At Brigade, the name of his show was "Contingency Plan."
Maggie Barry, who made a career of making stage clothes for performers such as Katy Perry and Lady Gaga, showed new looks from her Maggie Barry Fashion and M8 Urban lines. Barry's styles were intended for the Burning Man crowd and people who jet to the Spanish party island of Ibiza to nightclub. Looks included silk robes with images depicting unicorns and stars, netting with an iridescent fabric and motorcycle jackets with the back cut out. Also shown, hats made by Los Angeles label Sol Sol, which feature solar panels to charge phones with. During the evening, Barry also previewed one of her brand's upcoming fragrances, Fluff, which will feature a vanilla scent.
Band of Gypsies showed its Fall 2017 looks at the show, which were inspired by the romance of the 1960s. Designer Barbara Strasmore showed the label's vintage-inspired prints, such as a teal floral in a mid-length, cold-shoulder sheath. Another look was an embellished army jacket, an embroidered cami top and a black stripe soft pant.
In attendance at the show were VIPs including model Alexis Skyy, actresses Ellen Wong, Janina Gavankar and Riley Voelkel, and musician Liane V.