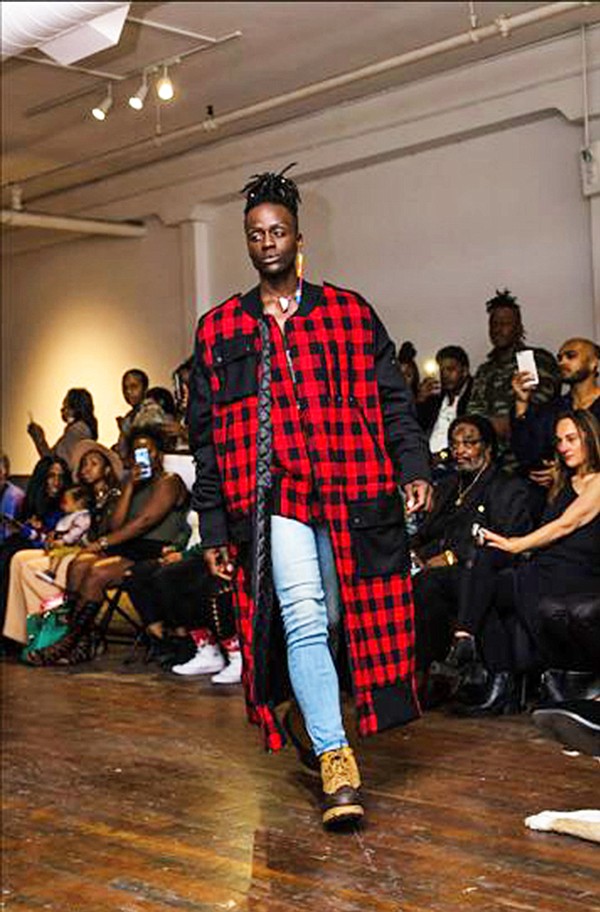 B.JAMES
B.James Tells L.A. Story With Emerging Label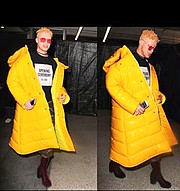 In Brandon James' tough South Los Angeles neighborhood in the 1990s, the people who dressed well and had money were known as hustlers according to James, now a designer.
"If someone hustles, that defines everything. They can sell drugs, cars, anything to pay bills. It wasn't always the 9-to-5. People would say, he is a hustler, he has ambition, and fashion is the way I do it."
Out of 40 of the boys in his group of neighborhood friends, four are still alive and avoided lengthy jail sentences, according to James. It was easy for the boys to get swept up into violence and troubles with the law.
James remembered that the dealers in his neighborhood also would tell kids to beware of their life paths. "When you're broke, everything looks good. But once you get it, the value depreciates," James remembers them saying. "I started focusing my mind on things that are not so materialistic, like my health and my education."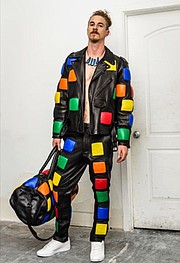 Charlene Wade, James' grandmother, taught him how to sew. Through making custom clothes and working as a waiter, James earned a degree in fashion design at Los Angeles Trade-Technical College near downtown Los Angeles. Shortly after graduation, his B.James custom fashion label, which is manufactured in Los Angeles, is making a splash.
Several of James' looks were on the red carpet at the BET Fashion and Beauty Experience June 24 at the Los Angeles Convention Center. The same day, music star DJ Khaled hosted a fashion event featuring bags made by the B.James experience. Also in June, prominent model Shaun Ross posted pictures of himself wearing a B.James full-length, puffy-leather bomber jacket on his personal Instagram profile (@shaundross).
James is an emerging designer making a splash, said Jamar Hart, the stylist who pulled B.James looks for the BET show. Hart also has worked with music stars such as Beyoncé and Ne-Yo and LA Chargers tight end Jeff Cumberland. The B.James label always is a good bet, Hart said, adding that after fashion events there's always interest in B.James clothes. "His pieces are very flexible. They have range," he said.
B.James is inspired by 1980s and 1990s hip-hop style, but the label's looks don't look dated, Hart said. Men and women both look good in the brand's styles. There's a costume element to the line. One of James' goals is to work as a costume designer, along with building a lifestyle brand. Influences range from major brands, streetwear and innovative designer Dapper Dan, who helped mint the hip-hop look in the 1980s. "My goal is to be on a level with Ralph Lauren, be creative and bold like Jeremy Scott, to make moves like Dapper Dan, and to represent where I come from like Cross Colours," James said.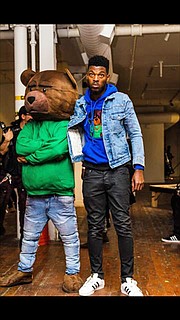 The costume element can be seen in B.James' "Adidas Shell Toe" dress. It was inspired by the sneakers James grew up wearing. The dress is shaped like a sneaker and constructed out of sneaker leather. It might be the ultimate dress for a female sneaker head. James wanted the wearer to slip her body into the dress like a foot being placed into a sneaker. Laces in the front of the dress tie up like a sneaker. The dress's suede tongue goes up to the wearer's neck.
B. James also focuses on high-end streetwear. Some have a costume edge. There's a "Rubik's Cube" dress as well as jacket and pants. The foundation of the pieces is black leather. But they are covered by brightly colored leather squares, reminiscent of the Rubik's Cube puzzle game popular in the 1980s. One B.James leather jacket features art-deco pop-outs that look like crayons. There's the lamp dresses, shaped like art-deco lamps James remembers from his grandmother's house. Other looks include an ankle-length suede vest topped off by a fur collar. There's a bustier/miniskirt combo inspired by the 1980s "Soul Train" shows.
A significant element of B.James streetwear is the graphic of the label's mascot, D Bear. It's a cartoon-like character with comic facial expressions. D Bear is seen on B.James hoodies, T-shirts and caps. The mascot made an appearance at a fashion show called the B.James Experience. It was produced in downtown Los Angeles in April, in collaboration with Style Barre showroom, which represents B.James. The mascot danced around and also walked the runway.
D Bear shows up for laughs; he also offers food for thought. The mascot was inspired by the hustlers in James' neighborhood when he was growing up. Like the mascot, they wore leather jackets, gold chains and hoodies.
He remembers the hustlers' humor and their good sides. "They were role models," James said. "They'd take care of you as a friend."
The neighborhood hustlers also were family. His older brother, Bradie James, now out of prison, gave him guidance on navigating life while serving a 13-year sentence. His Uncle Rickey McKinley and his Aunt Georgette Ivy also taught him hustling and entrepreneurship.
When he was ill with sickle cell anemia as a child, his mother, Michelle McCaleb, would visit him the hospital. "No matter what the doctors say, we're going make sure that you get out of here," James remembered her saying.
All of these people served to clear static from his head while growing up. "They'd motivate you to do better."