TEXTILES
Cone's S Gene Tech Turns 10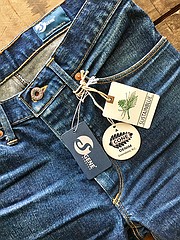 Greensboro, N.C.–based denim mill Cone Denim is celebrating the 10-year anniversary of its S Gene dual-core technology.
First introduced by Cone in 2007, S Gene brought stretch and improved recovery properties to denim fabrics with its dual core of filament polyester and spandex, which is then wrapped in a spun-cotton covering, giving the yarn the soft hand and natural appearance of cotton with the stretch performance of a man-made yarn.
"Our S Gene technology continues to revolutionize stretch denims," said Kara Nicholas, vice president product design and marketing. "Using innovative stretch technology hidden within the yarn, we virtually eliminated 'bagging knee' syndrome and created a new standard for superior shape retention and recovery performance."
Cone has continued to advance its S Gene offerings, first in 2015 with the introduction of Level II S Gene, which features 25 percent increased stretch power. This year, the company introduced high-strength S Gene + yarns, which feature the stretch and recovery of traditional S Gene yarns with the added benefit of increased strength. The polyester core in S Gene + is also made from 100 percent recycled polyester, adding a sustainable benefit to the yarn.
"Level II S Gene technology elevated the performance of stretch to the next level and unleashed denim fabrics that conform, slim and shape but with unbelievable power and comfort," Nicholas said. "This year we are launching S Gene+ in celebration of the technology's 10-year anniversary. This newest stretch innovation brings sustainability to stretch. We are committed to developing S Gene denims using 100 percent recycled polyester content, offering a new level of eco-conscious denim to the marketplace."
Cone has also recently introduced Coneflex denim with S Gene technology. Coneflex denims feature 360-degree, four-way advanced stretch thanks to stretch yarns in the warp and the weft. Coneflex fabrics have the authentic look of traditional 100 percent denim but feature low shrinkage, good recovery and better shape retention across multiple fits.
For more than 125 years, Cone Denim has been developing advanced denim capabilities for the global market. In addition to performance denims and new technology such as S Gene, Cone also produces traditional denim such as Cone Deeptone Denim, vintage re-creations of early 1900s fabrics. In addition to stretch and performance denim, the mill also has a collection of selvage denims made on vintage looms. The company's Natural Indigo denims are dyed with 100 percent natural indigo rather than the synthetic indigo typically used in the apparel industry. Cone Denim is part of the International Textile Group Inc., with manufacturing capabilities in China and Mexico as well as the company's White Oak mill in Greensboro.
For more information, visit www.conedenim.com.