RETAIL
Handcrafted LA to Open at The Bloc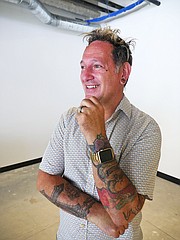 After a career of producing outdoor markets and festivals, the husband-and-wife team of Phillip and Shelly Dane will be opening their first permanent boutique in downtown Los Angeles.
The Danes' upcoming shop, Handcrafted LA, will open in a 3,600-square-foot space at The Bloc, a downtown Los Angeles retail center undergoing a $180 million renovation that included tearing a roof off of the more-than-30-year-old enclosed mall.
Handcrafted LA is scheduled to take a bow on Aug. 15. It will feature Los Angeles–headquartered artisans and designers selling limited-run and one-of-a-kind goods at separate booths lining the store. Handcrafted LA will house 15 booths, including a mix of 10x10 and 10x8-foot spaces. In the back of the store, there will be a DJ booth. There will also be counter space and table space available for rent.
Designers can rent booths for 30 days, then make space for a new tenant. The vendors will be charged a fee of $295 to $525 and 20 percent of their sales, Phillip Dane said. Vendors will not be required to staff their booths. Sales will be handled by Handcrafted LA staff. The first tenant will be leather goods and furniture designer Dean Leather, which runs a boutique in the Sunset Junction area of Los Angeles' Silver Lake neighborhood.
"It will constantly be revolving with new tenants," Dane said. Handcrafted LA will feature white walls to give the space a gallery look. "It's an open space. I want it clean," he said. Some of the wall space might be devoted to work of local artists.
Renovation has been a long process for The Bloc, which is owned by The Ratkovich Co. It announced the start of the renovation in 2013. One of its anchor tenants, high-end cinema and eatery Alamo Drafthouse Cinema, is scheduled to take a bow in 2018. New tenants include a Starbucks with a newly minted craft coffee counter.
Long-running Bloc tenants include a Macy's and an LA Fitness gym. Part of the sprawling compound includes a Sheraton Grand Los Angeles hotel and a 722,000-square-foot office tower.
Dane forecasts that his new boutique will attract shoppers from the hotel, the office tower, as well as people lounging in the Bloc's open-air courtyard area and commuters from the Seventh Street/Metro Center light-rail station across the street. A tunnel connects the retail center and the light-rail station.
"It will be a unique destination," Dane forecasted about the Bloc. "It will be one of the things to do in downtown Los Angeles."
The Bloc's office tower also is the address to Nordstrom's HauteLook division. It was also recently announced that London-headquartered e-tailer Farfetch will open its West Coast offices on the 30th floor of The Bloc. It will take 25,000 square feet of office space to house the e-commerce site's design and tech offices, said Jeffery Fowler, Farfetch president for North America.
"Farfetch has called Downtown LA 'home' for its U.S. operations since we entered the market eight years ago, and we are proud to continue to invest in the community with our new office at The Bloc as we look to the future growth of our business," Fowler said.