As of Thursday, March 2, 2017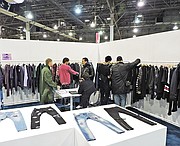 This season, Capsule and Agenda shared space in a ballroom at The Venetian in Las Vegas. The two companies are under the Reed Expositions umbrella, but show organizers made sure to keep each space distinctive and independent with a separate look and music.
Freddie Rojas, designer of Rojas Clothing in Los Angeles, said Capsule retained its indie spirit and business got off to a strong start on Feb. 20, the first day of the three-day trade show.
"We had traffic all today," Rojas said, adding that he saw a surprising number of Canadian stores as well as many of his existing Japanese buyers.
Emily Sansom, sales and customer-service coordinator for Vernon, Calif.–based Groceries, was similarly enthusiastic about the first day of the show.
"It's been busy," she said. "A lot of East Coast people are here—more than I expected. So, it's good.
Sansom said traffic was split between appointments and drop-in traffic.
"People love the new colors," she said.
Adam Derry, owner of the Los Angeles–based sustainable collection ADBD, was showing at Capsule for the first time. In fact, this was the first time showing at any trade show, Derry said.
"It's the first time we've taken the business outside our own walls," he said. "What we like about Capsule is they provide us the opportunity to tell our story. It's not over-defined."
Derry said the show provided an opportunity to meet with the line's buyers from New York and Japan.
"It's an interesting time to be a brand," he said. "We can control our model. We are not forced to be on the same calendar. We sell what we make. Nothing goes on sale. We make sustainable clothes that matter. We want to challenge everybody to just supply their demand."
This was the first showing for CottonlinkCA, a new line based in Santa Ana, Calif., and started by veteran apparel manufacturer Robby Khalek.
Khalek and his team were explaining the concept of CottonlinkCA, a luxury line of basics made with sustainable materials such as organic cotton, hemp and Modal.
"A lot of good stores came by—and they're buying," Khalek said.