TRADE SHOWS
Celebs, Buzzing Business at Project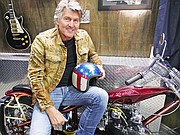 It was a time for celebrity endorsements at the Feb. 21–23 run of Project Womens at the Mandalay Bay Convention Center in Las Vegas.
Business at the sprawling trade show was briefly diverted when TV cameras and celebrity journalists crowded The Bugatti Group's booth to catch a glimpse of music star Celine Dion. The singer dropped by the Bugatti booth to introduce her Celine Dion Collection accessories line on Feb. 21.
The same day, Jenna Dewan Tatum, an actress, appeared at the Danskin booth. On Feb. 22, Julianne Hough, an actress and champion of the "Dancing With the Stars" dance competition show, made an appearance and took pictures at the MPG Sport booth.
More often than not, the executives running other booths at Project Womens and its sibling shows—Project, The Tents and The Collective—said that the pace of business at the shows matched the star power.
Greg Garrett of Z Supply LLC estimated that Project Womens enjoyed greater attendance than the February 2016 show. "You can't see down any of these aisles," he said of the area around his company's booth. The booth's real estate grew by 300 square feet to 1,500 square feet compared to its Project Womens show in August 2016.
Z Supply's sales chief, Tony Sanchez, said that more traffic brought more business.
"They're spending more dollars," Sanchez said of retailers. "They're more positive. We're not hearing that business is so rough anymore."
Different vendors described different views of the show. On the first day of the show, Michael Moshi, chief executive officer of the Lauren Moshi brand, described traffic at Project Womens as "nice and steady" and mostly coming from repeat customers.
Robin Chretien, founder of Robin's Jean, described his booth's traffic as old and new customers, mostly from independent stores. For the Toronto-based Dino Di Girolamo, representing the Brax Feel Good label, Project was a great place to catch up with retailers headquartered on the West Coast.
The sprawling shows had featured big booths from established brands such as AG, Ted Baker London, Tommy Bahama and Joe's Jeans to brands making a trade-show debut or a North American trade-show debut. They included Mitre, which made a reintroduction of the brand to North America. The brand supplied soccer-style jerseys to staff working at the Project show. Also appearing were emerging brands 2Nostalgik, 900, Jen Awad, Beachbody and Arcady. The Los Angeles–headquartered Arcady exhibited at The Tents show, held adjacent to Project Womens.
"It was an eye-opening experience seeing droves of people walking through the halls," Billy Hines of Arcady said of the brand's debut trade show. "It was a great intersection of influencers and retailers."
Walking The Tents were boutique owners Ross and Debra Hunter of Provisions of Santa Rosa, Calif. Trends they saw included sweatshirt styles and increased use of cashmere fabric.
Veteran retailer Fraser Ross of the Kitross boutique in Los Angeles placed orders for brands at the shows he shopped. However, he said there were not enough emerging brands and new lines at Project. "The brands we retail well are not at the shows," he said. "They only sell at less than six stores in North America. They can't afford a booth."
RELATED STORIES