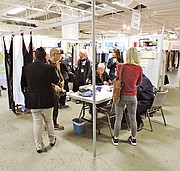 Many of the familiar faces walking the aisles at the Los Angeles International Textile Show were missing this season when the longstanding textile show went head-to-head with an apparel trade show in New York.
This season, the show's Feb. 27–March 1 run at the California Market Center fell at the same time as Coterie in New York.
Several longtime Textile Show exhibitors said many of their contemporary customers could not attend the show because of the overlap with Coterie. Some hoped those customers would turn up on the last day of the show, but the strongest day of the three-day run turned out to be the second day of the show, Feb. 28.
"Yesterday was fairly busy. We've had a good flow," said Sherry Wood, director of merchandising for Texollini, the vertical knit mill in Long Beach, Calif. "Because the show fell during the same time as Coterie I saw slower attendance than normal. We haven't seen [many of] the designers and brands we usually see."
Wood said Texollini typically does well at LA Textile. This season, many of the attendees seemed to be new designers, new brands and up-and-coming e-commerce companies, she said.
It was a similar story for Ray Gabbay, owner of RC International Fabrics Inc. in Los Angeles, who said many of his key LA customers were in New York during the show.
The longtime LA Textile show exhibitor said his company imports a wide range of woven textiles, including denim, chambray, yarn-dye stripes and flannels, novelty gauze, linen, voile, Tencel, seersucker, and eyelet. The company has about 5 million yards in stock with minimums of 100 yards.
"I can drop-ship anywhere, but my strong point is I'm stocking all kinds of fabric [in Los Angeles]," Gabbay said. "The people I want are the people who are making [apparel] in the USA."
This was the third time at the show for Brazilian printed textile mill Kalimo.
"Many clients were in the fair in New York," said Kalimo Chief Executive Officer Jay Khaliefex, who said the show was "in general emptier than last time."
"But for us it was better. We were busy," he said.
Julia Culau, who runs Kalimo's Los Angeles office, said it was important to consistently exhibit at the show.
"We are starting to feel people are recognizing us," she said. "We had more people at our booth this time than last time."
This was the second time at LA Textile for Montreal knit mill Tricot Liesse after many years away. Tricot Liesse designer Nathalie Camier said traffic seemed lighter than last season, but the quality of interest may turn out to be better.
"Last time I got a lot of requests—it was crazy," she said. "This time I had better meetings."
Camier said she saw some of her existing clients but not her largest accounts.
"The biggest customers we visit in their office," she said.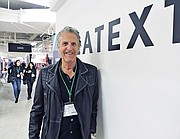 Steve Maiman, co-owner of Stony Apparel Corp., was at the show on the second day with two members of his team. The timing of the show is tight, Maiman said, but added, "We have to go."
"The Textile Show is important. Sometimes all it takes is one item to make the year," he said.
Show organizers last season introduced a small sourcing section adjacent to the textile exhibitors on the CMC's 13th floor. This season, the section expanded to include additional sourcing resources as well as trend forecasters, technology companies, printers and print suppliers.
Pat Brandt, owner of the trend-forecasting company Patricia Brandt Co., praised the look of the sourcing space but said it was hard for attendees to find it.
"This space is lovely, but people don't know we're here," she said.
Jennifer Evans, owner of TEG International, a vertical factory in Los Angeles and San Francisco, has been showing at the LA Textile Show for several years but was relocated from the main space to the new Sourcing section this season.
"Last season we didn't know they did this section," she said. "This time they gave us only this option."
Evans hosted a seminar on the opening day of the show, which brought attendees to her booth. And the second day was strong for her as well, she said.
"It's nice to interact with the industry and have face-to-face interaction," she said.
Ron Frieborn, owner of Ron Frieborn Printing Inc. in Canoga Park, Calif., also showed last season in the textile section and moved into the new Sourcing section this season.
"I did fairly well last time," he said. "It's very quiet over here. It's a beautiful space, but you don't have any foot traffic."
Frieborn has been sublimation printing for apparel clients for 28 years. Until recently he has been relying on word-of-mouth referrals to generate new business. He said he decided to exhibit at LA Textile to attract more customers.