TRADE SHOWS
Curve's Central Location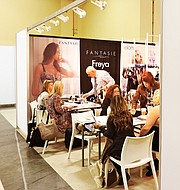 This season, for its Feb. 21–23 run, Curve Las Vegas moved from the corner of the Mandalay Bay Convention Center to a central location next to the athleisure exhibitors at Project Womens.
The move earned high marks from the show's exhibitors.
"This year is good. There are more people. Curve is smaller, but the location is good," said Liz M. Siabato, senior product specialist, North American division, for Colombian lingerie and shapewear company Leonisa.
The company is a longtime Curve exhibitor. Siabato said she saw her existing customers and new prospects—including buyers from Asia, Canada and Europe—as well as U.S. stores from California, Texas and Alabama.
Simon Southwood, with San Diego–based swim line Sauvage, took advantage of Curve's proximity to menswear shows Project, The Collective and The Tents by bringing some of Sauvage's men's styles as well as its women's collection.
This was the first time Tiziano De Franco was showing Romanian lingerie line Jolidon at Curve. The 30-year-old company is looking to enter the U.S. market, and Curve's proximity to Project Women's was advantageous, according to De Franco, president of New York–based Tiziano.
"I'm glad we are close to Project," he said. "We see more traffic. A lot of these stores integrate some pieces of lingerie, too."
Jolidon is a vertical company that produces its lingerie in-house using European fabrics and European trim such as Swarovski crystals.
"It's a company that has a lot to offer," De Franco said. "It's manufactured in Europe at a competitive price."
Stacey Gossman with The Gig Showroom in Los Angeles was at Curve with two shapewear collections: TC Shapewear and Miraclesuit.
On the first day of the show, Gossman said traffic seemed to be a "tiny bit down, but people seem to be writing orders."
TC Shapewear (the TC stands for "total comfort and total control," Gossman said) sells in Neiman Marcus, Nordstrom, Bloomingdale's and better specialty stores. Miraclesuit is more mid-tier priced and sells at Macy's and bridal stores.
"It is great to be at the crossroads," said Pierre-Nicholas Hurstel, chief executive officer of CurvExpo, which produces Curve Las Vegas in partnership with Project parent UBM. "It's good to have athleisure side by side with swim and lingerie."
This season, Curve Las Vegas had 80 brands exhibiting—a small increase over last season, Hurstel said. Preregistration was strong, he added, and there were about 200 appointments and matchmaking sessions booked prior to the show.
Lingerie brand Wacoal was busy with back-to-back appointments at Curve.
"We do a good job in prebooking appointments—that's the key to a successful show," said Joseph Smith, director of sales specialty accounts and director of international logistics.
Smith and sales representatives Michelle Caiazzo and Cheryln D. Rice said they saw a mix of existing accounts and potential new ones. Most retailers were West Coast based, but a few from the Midwest and Florida shopped the show as well.
"We see international in New York," Smith said, adding that the new location was an added benefit.
"I like the new location—you're right in the thick of things," he said. "There seems to be a better energy."
RELATED STORIES