TRADE SHOWS
Jewelry Show IFJAG Returns in a New Venue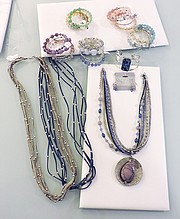 IFJAG, the jewelry and accessories trade show, returned to Las Vegas one year after hosting its first show in Las Vegas in 2016.
The show is organized by the International Fashion Jewelry and Accessories Group, a Rhode Island–based nonprofit accessories trade association that has been hosting trade events since 1950, including IFJAG trade shows in New York and Miami. Last year, the company added Las Vegas to the lineup and held its event in hotel rooms on two floors at Bally's. This year, the show relocated to the Embassy Suites near the Hard Rock Hotel and Casino for its Feb. 20–24 run.
IFJAG took up three floors of the hotel in suites overlooking the central courtyard, which overlooks a stream featuring a pair of swans. Exhibitors were able to arrange the one-bedroom suites like a trade-show booth with collections displayed in the front window.
Mary Jo Kurowski, owner of Accents by MJ, had several appointments booked but was hoping to also meet potential new accounts.
"That's what we're all about," she said. "To meet new people."
Kurowski was showing several collections, including Classico Inc., a line of jewelry made from bohemian glass from the Czech Republic; Abraham Leech, a collection featuring cubic zirconia and freshwater pearls; and I.B. Inc., a collection of handmade sculptural metal jewelry made in India.
Mairaah and Atul Aggarwal, the co-designers of I.B., were also at IFJAG to show the collection. The Phoenix-based designers said they had mostly been meeting with pre-booked appointments.
"The walk-ins are from California," Atul Aggarwal said.
Luisa Yau, sales manager for Joann She & Co., based in New York, said business on the second day of the show was good but she said she'd prefer the show move to a hotel closer to the other trade shows in Las Vegas.
"I'd prefer to be on the Strip. It would be more convenient for buyers," she said, "The last show was at Bally's. It was more central."
Peter Kwon, with Bala New York, said he was doing well with his collection of hand-made metal, bohemian and celluloid jewelry.
"For our company, we're doing well," he said. "We did very well last time, but we had one room. This time we have two rooms."
Michael Jang, with Love of Fashion Corp., based in East Rutherford, N.J., was showing hats, tote bags and swimwear cover-ups. Jang said he was primarily meeting with drop-in traffic.
"They came from all over," he said, adding, "We come to the West Coast to get West Coast chain stores and South America [buyers]."
Eighty two buyers registered as of opening day of the show, said Chris Valcourt, who represents Jacqui Accessories and serves as president of the IFJAG board.
"Talking to a few customers, they say this year has picked up business-wise," he said, adding that one attendee—a large Midwestern wholesaler—said they'd had a particularly strong beginning of the year.
"Some had a good Christmas, some had a soft Christmas, but there's more positivity," Chris Valcourt said. "I haven't talked to a person who's been negative. It's always positive when you pick up new accounts."