TRADE SHOWS
Upbeat at Offprice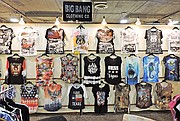 The aisles were crowded, the booths were bustling and the exhibitors were upbeat at the Offprice show, held Feb. 19–22 at the Sands Expo in Las Vegas.
Tony Peters, vice president of sales for Bermo Enterprises, said it was the busiest show in years for the Schoolcraft, Mich., company, which sells branded offprice apparel.
"We picked up a brand-new account from New Zealand," Peters said. "They left good paper."
Peters said part of the brisk business was the timing.
"If they want Spring goods, they're going to buy," he said. "I've got good deals."
Some retailers held back on buying last year, so "there are some needs out there" as well, Peters said.
The booth for Big Bang Clothing Co. had a sign indicating that the company carries made-in-America merchandise.
The Los Angeles–based company "does everything" but specializes in printed apparel for the gift and souvenir market, said Sam Lee, president of the company, which was founded in 1989.
"All the casinos on the Strip" as well as major retailers carry Big Bang tees, Lee said.
Lee said his company has been showing at Offprice for 10 years.
"We are doing well," Lee said, estimating that about 60 percent of the business he does at Offprice is with new accounts.
Los Angeles–based Jsquad Clothing was showing its resort collection at Offprice as well as at WWDMAGIC, said company representative Manish Vaid.
The company shows its higher-end collection at MAGIC. The line, which features silk fabric and hand-embroidered details, is wholesale priced around $28. For Offprice, Vaid said, the company produced a separate line with wholesale prices that start at $15.
Nexst Clothing specializes in denim and casual apparel. The Vernon, Calif.–based company was showing denim pants, jackets and shorts as well as activewear pieces. Everything is produced in the company's factory in Hong Kong, said sales representative Melissa Echevarria.
This was Nexst's third time at Offprice, Echevarria said.
"It's really good," she said on the second day of the show. "So far, we have had lot of new customers."
At the booth for Iris Impressions, a model was demonstrating multiple ways to rewrap a skirt into a dress.
This was the first time the 10-year-old company was showing at Offprice. Iris Impressions typically shows at Surf Expo and ASD, said Tal Block, chief executive officer of the Las Vegas company. Iris Impressions's silk/polyester skirts are designed in Hawaii and made in India.