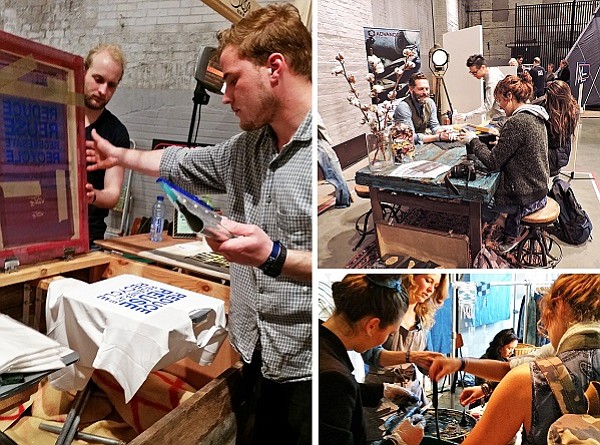 Denim Days Coming to the U.S.
Denim Days, the week-long denim festival in Amsterdam, will touch down in the U.S. this fall.
The event, which features interactive workshops, in-store events, a vintage denim market, as well as parties and panel discussions on all things denim, has been held in The Netherlands for the last three years.
Events are hosted by denim mills and brands. For example, at last year's event in Amsterdam, there were hand-weaving demonstrations and indigo-dyeing workshops hosted by Textiel Fabrique. Bossa Denim was giving away T-shirts that has been silkscreened on site. There was a G-Star teepee created in collaboration with Pharrell Williams and Calvin Klein and Hilfiger Denim has denim fashion displays. Visitors shopped a denim market for everything from vintage denim pieces to hand-made items and books about denim and jeans. There were also film screenings, live music, and food and drink, as well as special in-store parties featuring live performances, limited-edition merchandise, food, drinks and gifts.
Denim Days was founded by Lucel van den Hoeven, chief executive officer of fashion trade-show organizer Modefabriek, with Mariett Hoitink and James Veenhoff, founders of Amsterdam's House of Denim, an organization that seeks to find ways to make jeans "drier, cleaner and smarter." Hoitink and Veenhoff also are the founders of the Jeans School, a three-year educational program in Amsterdam that provides training in designing, producing and marketing jeanswear.
"The energy and inspiration we all get from the successful and influential Amsterdam Denim Days is immense. We can't wait to launch an all-American version for style-setting, indigo-devoted New Yorkers," van den Hoeven said.
In Amsterdam, Denim Days runs alongside Kingpins, the boutique denim supply chain show, which is organized by Olah Inc., which is co-hosting the U.S. edition.
"As a collaborator in Amsterdam Denim Days, I have had the great pleasure to see an incredible concept resonate with an audience and grow each season. We believe that denim lovers stateside are ready for a denim festival of their own," said Kingpins founder Andrew Olah. "There is so much passion for denim here, so many great resources, personalities and craftsmen that will help us make New York Denim Days a must-attend event for the denim community."
Denim Days' U.S. edition will be held Sept. 30–Oct. 1 at the Metropolitan Pavilion in New York's Chelsea neighborhood. Amsterdam Denim Days will hold its fourth edition April 17-23.