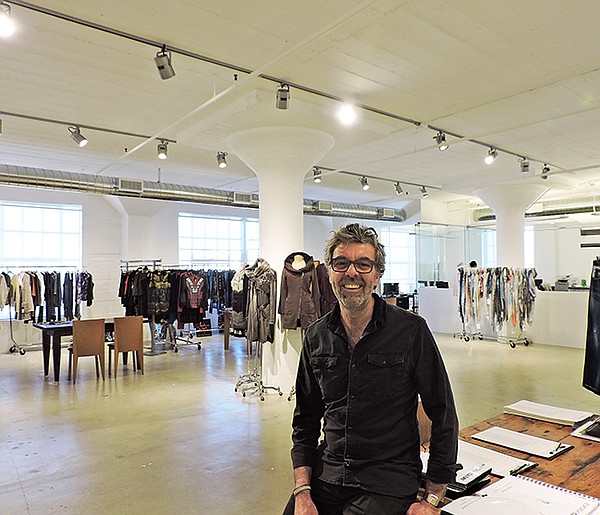 FASHIONLINK
Jacobson's FashionLink Showroom Moves to New Mart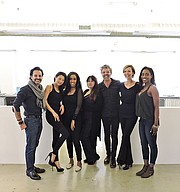 Peter Jacobson is putting the finishing touches on his new FashionLink showroom on the 10th floor of The New Mart.
The 3,000-square-foot corner space has white gallery walls and wraparound windows with a panoramic view of Los Angeles—including Southern California's snow-capped mountains. Jacobson and his team moved to the new showroom in January and immediately began renovating the space. New air conditioning was added, glass walls were installed in Jacobson's office and in the kitchen, and there are new display fixtures and new lighting. In the days leading up to the March 13–16 run of Los Angeles Fashion Market, Jacobson was waiting for new speakers to be installed and new racks to arrive from Italy.
"We stripped everything down and started again," Jacobson said. "More than anything, I wanted this to be a comfortable space for customers with good, accurate lighting and the fabulous service that we're known for."
To celebrate the new space, Jacobson and his team will host a cocktail party in the new showroom on March 13 from 5 to 7 p.m.
Jacobson moved to The New Mart after his lease expired on his second-floor showroom at the California Market Center. Jacobson spent 35 years at the CMC, eventually expanding his showroom—originally called Creative Concepts—into 2,200 square feet. When he first opened his showroom, Jacobson focused on contemporary fashions made by California designers. In 2008, he opened FashionLink to be a distribution company for European lines. Today, all he carries are European collections, including Beate Heymann Street Couture, Aventures Des Toiles, Cristina Gavioli, Indies, European Culture, Avantgar Denim, Henry Christ Cashmere, Pepito's and Ana Alcazar.
"FashionLink has become the face of the business," Jacobson said. "Many customers still know us as Creative Concepts. That was a sales organization. FashionLink is a distribution company."
Through FashionLink, Jacobson has found a niche in the market for higher-end fashions with a unique look. Jacobson does not sell his collections to e-tailers or department stores, preferring to focus on better specialty stores across the country.
"I very much believe in brick and mortar. That's our focus," he said. We focus on an interesting niche, which is above normal contemporary and below designer. We end up in a lot of top designer stores because our product has that quality."
FashionLink's collections range in wholesale price from a $30 T-shirt to a coat priced in "the high 4s," Jacobson said. But the general wholesale price range is $75 to $225.
"We're pushing the envelope way beyond much of the market," Jacobson said. "Our whole focus is finding unique product that isn't a duplicate of what the stores have. I believe the stories are bored. They need real excitement—whether that's the design, the fabric, a detail, the look or a trend. They want something special that sets their store apart and helps the customer come back and ask for more of that brand."
Jacobson and his team select key items from each collection to make sure each piece is a good fit for the American market.
"As distributors, we have to focus on what's correct for the market," he said. "Sometimes less is more. Especially in America, buyers prefer to see the best. That's why we're here. We know and understand the American market."
The U.K.-born Jacobson got his start selling clothing—first denim, then men's belts, shirts and ties and eventually suits—on London's West End. He went to work for European retailers such as Marks & Spencer in London and Galeries Lafayette in Paris. When he moved to Los Angeles, he worked as a buyer for Federated Department Stores' iconic Bullocks Wilshire store before switching to showroom management and then opening his own showroom at the CMC (then called the CaliforniaMart).
"I'm excited about moving to The New Mart," Jacobson said. "I've seen a lot of old friends and new friends we've never met before. And we've had some nice visits from our existing customers."
FashionLink is located in suite 1011 at The New Mart. For more information, call (213) 627-1235 or visit www.fashionlink.org.