TRADE SHOWS
Shahid to Lead LAMM Trade Show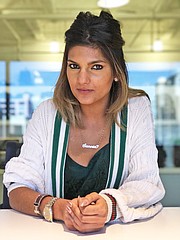 Longtime assistant show director Sannia Shahid was recently named show director for the Los Angeles Men's Market. She will run the upcoming LAMM, which is scheduled for March 28–29 in the California Market Center showroom building in downtown Los Angeles.
Shahid has worked at the show since it started in 2013 as a vehicle for 30 brands on the fourth floor of the CMC. She forecast that more than 100 vendors will exhibit at the show, which now runs at an events space on the "B" wing of the showroom building's 10th floor. The independent, biannual show focuses on Summer and Holiday seasons, compared to the great majority of shows, which show Spring and Fall seasons.
Shahid follows LAMM founder Kellen Roland, who formerly served as show director and is now director of U.S. sales for accessories company Herschel Supply Co. The Vancouver, B.C.–headquartered company acquired Roland's sales company The NTWRK Agency in January for an undisclosed amount.
Roland said that Shahid will foster growth at LAMM. "She's played a significant role in the show for many years and has the knowledge and experience to keep elevating the show," Roland said. "She has a keen eye for style and aesthetic that keeps the show fresh and exciting."
For the upcoming LAMM, a new section called Gentlemen's Club will take a bow, Shahid said. It will focus on men's grooming, skin care, and oils and soaps. For its previous show in October, LAMM debuted a section called What's Next. The returning section is devoted to emerging brands with a limited wholesale distribution and to those who focus on direct sales.
Buyers visiting past shows have included specialty stores with big fleets such as Tilly's, Zumiez and Pacific Sunwear. But LAMM focuses on independent, high-end men's boutiques such as Need Supply Co., Machus and Premier. LAMM flies in more than 50 retailers to the show, Shahid said. She forecast growth for the show. "We'd love to expand each category," she said. "Maybe we can export it to different cities or different countries."
She also will continue to focus on service to vendors and show attendees. "I'm not selling you a booth," she said. "It's about building a lasting relationship. That's what matters."