MANUFACTURING
Lubov Azria Exits BCBGMaxAzria as Company Restructures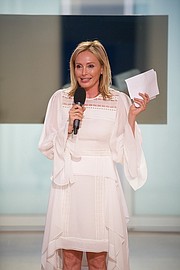 With the BCBGMaxAzria Group trying to restructure its business after filing for Chapter 11 bankruptcy protection days ago, the Los Angeles contemporary clothing company has replaced its chief creative director, Lubov Azria, whose husband founded the company.
Taking over as creative director is Bernd Kroeber, who has been with the company for a decade. Kroeber will be in charge of creating a new design direction for BCBGMaxAzria and its other two labels: Hervé Leger and BCBGeneration, a clothing label for younger women once helmed by Joyce Azria, the daughter of Max Azria from his first marriage. Joyce Azria recently launched a new brand called Avec Les Filles, geared toward the millennial woman.
Kroeber's first collections will debut for the Spring 2018 season. He reports directly to Marty Staff, the interim chief executive officer who replaced Max Azria, who was put on paid leave nearly one year ago.
"I am thrilled to welcome Bernd as our new creative director," Staff said in a statement. "He brings a creative aesthetic that meets the tastes of tomorrow with a complete respect and appreciation of BCBG's DNA."
Kroeber joined BCBGMaxAzria in 2007 and most recently served as vice president of design for BCBGeneration, re-launching the brand with his designs in 2014. Before joining BCBGMaxAzria, Kroeber was design director at Elie Tahari and Strenesse.
Two other executive appointments were made at the same time. Annette Schatz, was promoted to president of global wholesale and distributors. Previously, Schatz was executive vice president of BCBGeneration and wholesale. In addition, Greg Adams was named as vice president of marketing.
BCBGMaxAzria filed for bankruptcy protection on Feb. 28. The apparel venture, founded in 1989 by Max Azria, has been navigating through some tough financial waters in the past few years.
The company was trying to reduce the number of retail stores it operates in the United States and around the world, but was unsuccessful in negotiating store closures with malls that held long-term leases.
With more people shopping online, several specialty store chains have been hit hard by a lack of foot traffic. The Wet Seal, The Limited and American Apparel have shuttered their stores or in the process of closing doors after filing for bankruptcy and selling off their brand names.
BCBG Max Azria, whose name stands for the French phrase "Bon Chic, Bon Genre" (or "Good Style, Good Attitude"), is looking at several options to go forward. There could be a sale or merger of the company and its assets, including its brand name, or a standalone restructuring.
The most optimistic way to exit bankruptcy, BCBGMaxAzria believes, is to focus on partner relationships, expand digital and e-commerce, keep selected retail locations, and establish more wholesale and licensing agreements