As of Thursday, March 16, 2017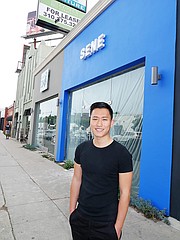 The secret to making the perfect suit involves a certain harmony; it balances how a suit fits the wearer, the materials used in the suit and its overall design/look, according to Ray Li.
Li is the chief executive officer of a suiting company called Sene. The New York–headquartered brand is scheduled to open a flagship in the District La Brea boutique compound in Los Angeles on March 22.
At the shop, located at 149 S. La Brea Ave., shoppers will enjoy a mix of traditional bespoke service and the savvy of technology-enabled fitting services. Sene stylists will strive to find the optimal fit for their clients by using tape measure and body-scanning technology. Sene suits feature slim fits, tapered pants and shorter jackets that Li called "anti-sartorialist." Otherwise, this suit is not meant to be overly dapper. It is just meant to be a good-looking suit.
But the 3-year-old brand also plans to extend its business plan with a Silicon Valley sheen. Its profits will not rely just on those who can travel to its Los Angeles flagship or its New York showroom for a fitting. Later this year, it is schedule to introduce kiosks in the San Francisco Bay Area where prospective customers can get a body scan, which will be used to make a Sene suit.
Customers also can do a fitting at their homes. After customers email the brand their measurements—such as a 32-inch waist, for example—Sene will send garments to try on to confirm their proportions. With the help of an instructional video, home customers will use the try-on garments to confirm their specific size.
After confirming sizes, Sene will make a fit profile of the consumer and a suit will be made in the brand's partner factories in America and China. About 10 to 14 days later, a suit will be delivered to the customer.
Even in an era of casual fashions, suits remain a good investment, Li said. They can transform the look of any man, he contended. Also, the market for the tech-enabled, custom suit has been growing. In the past couple of years, Irvine, Calif.–headquartered Combatant Gentlemen has handled online fittings and sales for its bespoke suits and also built physical stores.
Li said that Sene seeks a different demographic than competitors in the tech-enabled bespoke market. Sene's crowd will be older, more-established men. Retail price points range from $595 to $795 for a suit and $130 to $145 for shirts. Sene also makes more-casual clothes, such as jogger pants, trousers and chinos. Its price points range from $170 to $195.