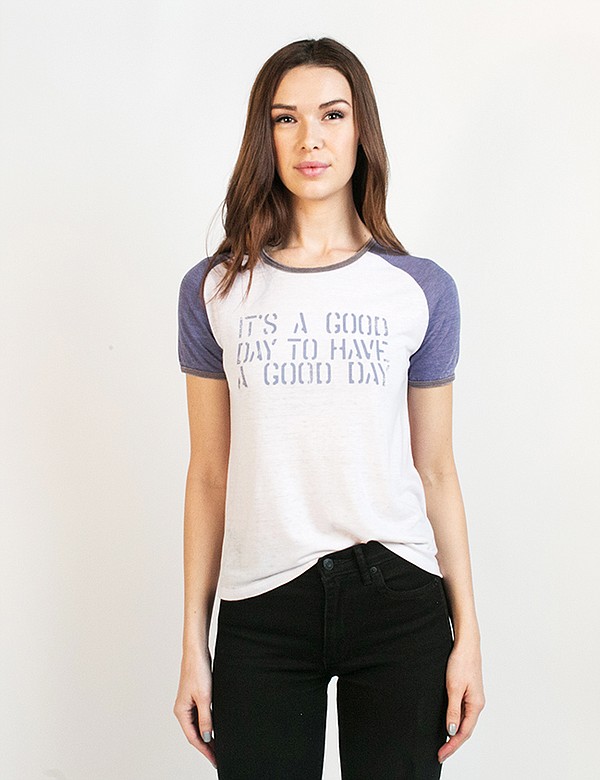 FUTURE STATE
Future State in 2017
When the Future State brand started in late 2014, it offered an array of women's T-shirts and placed the new line in retailers such as Urban Outfitters.
With its Fall 2017 line, the Newport Beach, Calif.–headquartered line's designer and partner, Francesca Boyd-Barrett, and manufacturer Andrew Suttner sought to add more-sophisticated looks and silhouettes for the label.
"We're not using the basic 100 percent cotton," Suttner said. "We're using elevated fabrics. We're using a lot of tri-blends and textured fabrics; we're mixing a lot of fabrics. But our goal is always to have a really soft hand."
New looks include the "Current" sweatshirt dress and the "Get With" sweatshirt, both of which combine panels of heather gray and three-end French terry. They are overdyed with an enzyme wash to promote a soft feel for the fabric.
Other looks, such as the "Special-Edition Contrast Henley," combine thermal fabric and jersey and feature details such as over-laying seams and gathers, Suttner said.
Other styles include a tee with a scoop neckline, sweatpants with a front-and back-seam detail, as well as a sweatshirt with elbow patches and a high/low hem. There's a jersey sweater made in a moto jacket silhouette. It features exposed stitching and a high/low hem. Future State also introduced a poncho look for its Fall 2017 line.
Graphics continue to be an important part of the line. With the "Don't Know" tunic shirt, graphics include the word "Wild" on one shirt and pictures of an eye surrounded by psychedelic designs on another shirt. Still other shirts bear graphics such as "All That Glitters is Gold" and the phrase "Over the Moon" interspersed with graphics of phases of the moon.
Wholesale price points range from $20 to $48. For more information, contact the Scarlett Showroom at casey@scarlettshowroom.com.
Photos courtesy of Future State.