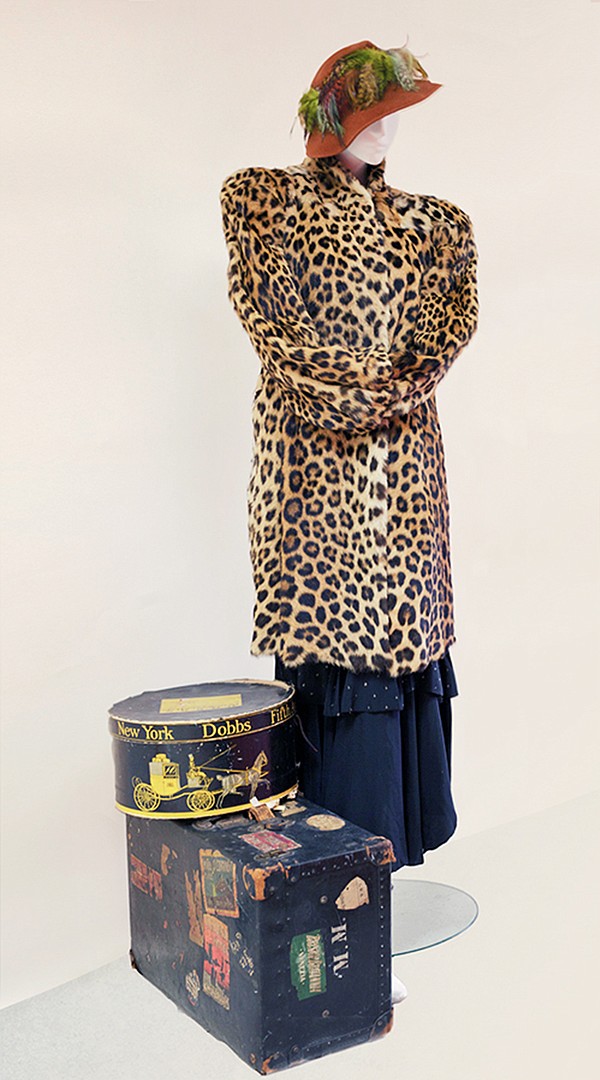 WOODBURY'S ARCHIVES
Woodbury University's Historic Fashion Archive Gets an Organizational Makeover
As Woodbury University's fashion department celebrates its 85th year, it is taking a good, hard look at its archive of 4,000 garments and accessories, which range from frocks from the 1800s to more-contemporary pieces that include designers Yves Saint Laurent and Jean-Paul Gaultier.
"We started this last year with a full cataloging of the collection," said Sue Vessella, interim dean of the university's School of Media, Culture & Design. "It had gotten somewhat unwieldy. So we are photographing and cataloging everything, determining the provenance of the specific pieces, which include garments, accessories, purses, shoes, the whole nine yards."
Each piece will have a barcode attached so they can be more easily accessed, said Anna Leiker, the recently named head of Woodbury's Fashion Design Department. That way, when students request pieces to study, they can be easily located instead of searching through racks and boxes that are stored in one big room.
The university, located in Burbank, Calif., is also looking for a new curator to lead the cataloging since the previous curator, Susanna Sandke, left last fall. In addition, the university is seeking an endowment to cover the approximately $10,000 a year it takes to maintain the collection, housed in a large room at the fashion design department as well as in a cold room to deter pest infestation.
Even though there is no full-time curator, students have been helping with the cataloging. Right now, some are pulling out historic garments that will get a walk on the runway April 30 at the annual student fashion show at The Reef, formerly the LA Mart, south of downtown Los Angeles.
Another 10 to 12 historic pieces are being selected for a stationary exhibit at the university president's reception before the fashion show, whose theme is "Timeless."
One dress here, another there
The university's Fashion Study Collection was started in 1978 when Rosalie Utterbach, the former head of the university's fashion department, received a donation from the Fashion Institute of Technology in New York.
Over the years, the collection has grown, primarily through donations. Notable fashion designers represented in the vast array of clothing include Oscar de la Renta, Christian Dior, James Galanos, Rudi Gernreich, Yves Saint Laurent, Issey Miyake and Bonnie Cashin as well as costume designers Edith Head and Adrian. There are also a few pieces by Woodbury grad William Travilla, famous for his designs made for Marilyn Monroe.
Other pieces may not have well-known designer names attached to them but they are historic, such as a woman's black mourning dress from the 1860s that is so tiny it looks like a child's. Or the hooped 1880s crinolines that were placed under dresses and skirts to make them billow out like balloons. There is an elaborately embroidered child's vest from the Balkans, circa 1880, and a men's top hat from 1889.
In 2009, the local chapter of the sisterhood organizationPEO, or the Philanthropic Educational Organization, gave 500 pieces that covered garments from the late 1880s up to more recent looks.
And in 2011, Lynda Resnick, the billionaire cofounder of POM Wonderful pomegranate products, donated more than 40 pieces from her personal wardrobe, which spanned fashion items from 1985 to 1995. The clothing included items by designers Geoffrey Beene, Thierry Mugler and Yves Saint Laurent.
More recently, a woman in San Diego, Vicki Rafa, called Leiker out of the blue and said she and her husband were selling their house to travel around the world. She had several pieces she wanted to donate. "She had lots of things, but we were only able to take a few things because of space," Leiker said. "I mentioned we are celebrating our anniversary with the fashion department starting in 1931 and she said she would send two things from 1931."
One was a dress and the other was a leopard fur coat that has a current-day value of $47,000. It is probably the most valuable piece in the collection.
Leiker said there are certain criteria for donated pieces. They have to have authenticity, designer status, value to students' learning and valued construction techniques.
Most fashion schools have some kind of museum collection used to teach the history of fashion and the art of garment construction and design. In downtown Los Angeles, the Fashion Institute of Design & Merchandising has more than 15,000 pieces in its museum collection, which is well catalogued, photographed and available to view on the Web.
Woodbury University is hoping its fashion design collection will also be available to view on the Web someday for everyone to enjoy.