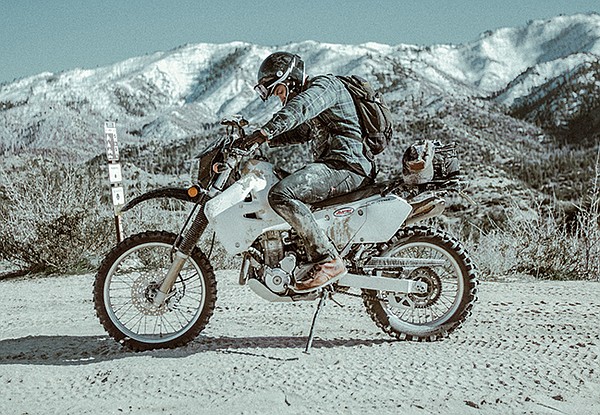 COHEN & SONS
Cohen & Sons Balances Vintage and New Moto Styles
Motorcycle fashions are perennially in style, from the classic looks of Steve McQueen and biker gangs such as the Hells Angels to the folks who race motorcycles.
Zach Cohen has been building a motorcycle-inspired collection called Cohen & Sons for the past few years, and this year he said he crossed a finish line.
In February, he introduced his first full collection at the Project trade show in Las Vegas. What was once a small line of T-shirts and jeans is currently a 106-piece collection of jackets, motorcycle jerseys, caps, belts, chinos and jeans constructed out of performance fabrics. Much of it is manufactured in the Los Angeles area, not far from the company's headquarters in Gardena, Calif.
"It's all inspired by vintage racing," said Cohen, the founder of Cohen & Sons. "It's a day at the races."
It's also an exercise in balance. The line's looks span from the 1950s to the 1970s, but the fabrics are 21st century.
The bottoms are made with Sorbtek, a yarn that gives fabrics a moisture-wicking capability. The mix of technical fabrics and vintage looks give the comfort of a stretch jean, Cohen said, but with the silhouette of rock 'n' roll skinny jeans or biker pants.
The line's looks range from the "Black Bird" jean, which features a heavy wax coating, to the "Moto Jersey" top, made out of a medium-weight terry fabric.
There's also the "Drifter Jacket," which features a collar inspired by a 1950s paratrooper jacket; a silhouette inspired by a contemporary, tapered denim jacket; and camouflage designs printed onto the inside of the jacket.
T-shirt graphics are made by artists who work on vintage motorcycles.
The inspiration for the Cohen & Sons label also looks to the past. Cohen & Sons was a denim and shirting factory owned by Zach's grandfather in Manhattan's Tribeca neighborhood. The factory operated from 1947 to 1996.
Zach, on the other hand, grew up in California and ran a T-shirt business, selling to fraternities and sororities while he studied at Sonoma State University. He later worked in advertising, but he harbored a dream of running a clothing line.
An opportunity arose out of a mishap. He received a $5,000 insurance check from a motorcycle accident in 2014 and used part of it for seed money to revive the Cohen & Sons label.
In 2014, he raised $12,000 through a Kickstarter campaign to finance the label's debut line. He placed the line in some boutiques such as Tankfarm & Co. In 2016, he partnered with denim fabric company Twin Dragon Marketing Inc. The terms of the deal were not disclosed, but the deal gave Cohen the means to build a full collection.
Cohen & Sons has also been active in making videos for the brand. Its video "Denim Craft," which shows the construction of a pair of Cohen & Sons jeans, was honored with a "Best Editing" award at the 2016 La Jolla International Fashion Film Festival.
The label's retail price points range from $40 for a graphic T-shirt to $190 for a high-end pair of jeans.
For Cohen, it's mission accomplished for bringing back his family's label. "We're taking it to new heights, to places my grandfather wouldn't think possible," Cohen said. "We're able to do things with so many fabrics because technology has come so far."
For more information, contact Mikee Pritchett at The Park Showroom at (213) 250-6200.
Photos courtesy of Cohen & Sons.