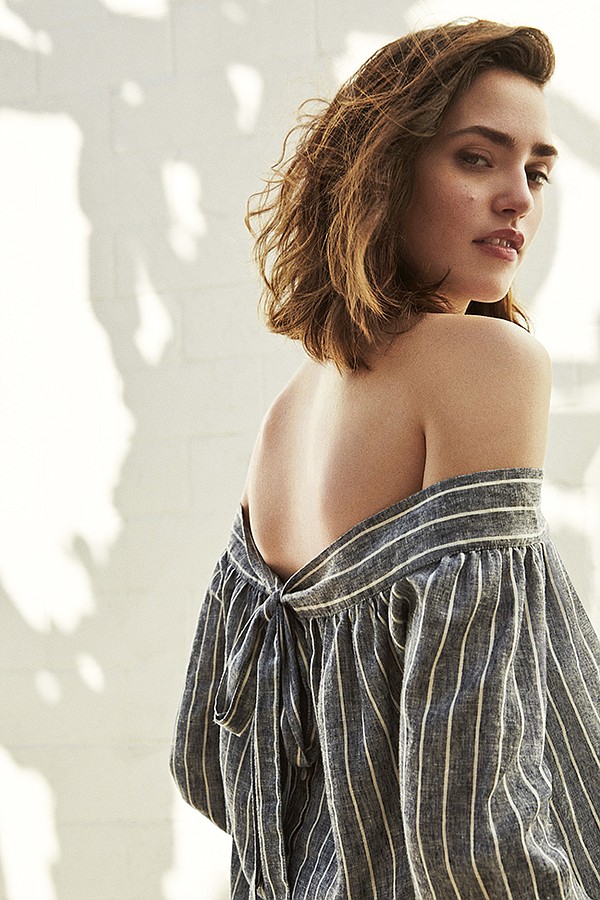 JOYCE AZRIA
Joyce Azria: Market Upheaval Is Good Time to Launch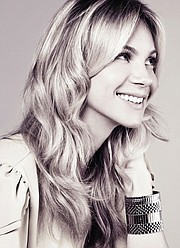 Joyce Azria is a child of Los Angeles' fashion industry. She grew up working at BCBG, the fashion label founded by her father, Max Azria. After serving as creative director for BCBGeneration, she introduced her first solo line, Avec Les Filles, in 2016. Billed as a fashion label for millennial women, Avec Les Filles has made some moves counterintuitive for that social-media generation such as opening 155 doors at traditional department store Macy's. Azria talked to California Apparel News on introducing a new fashion label during a time of great change, leadership and why she chose to do business with Macy's when the retailer is cutting back.
Retail and fashion are going through big changes. Did you have any hesitation starting a new brand?
Not for a minute. I find this an opportunistic time to lead a new fashion brand. I think when things are declining rapidly there is room for people to rise. Fashion has been a place that has been very hard to infiltrate in the past. Now there is more room. Leaders must shift their mindset and not see this as a sad time in retail but rather look at it as a changing time in retail. Change is difficult, and a lot of companies have a hard time changing. Change takes intuition, excitement and vision. Fact is, people see what they want to see and I see opportunity.
Could you talk more about Avec Les Filles' business strategy and why you chose to sell at department stores during a tough time for department stores?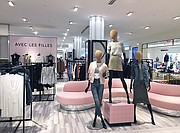 I am a millennial. I grew up with the Internet. I saw many of my friends start direct-to-consumer businesses. There was a lot of action, quick rises, and all of these brands worked up to making $50 million—then they hit a ceiling. They were not able to grow. They were not able to tell a cohesive story off of the screen. Once they would come to realize they needed a retail footprint the customer wouldn't buy into the storytelling, as it fell short of the constant change and excitement online. I felt it was wise to start with both and allow them to coexist in parallel.
Macy's leadership and its team really sees the future. And for me fundamentally, I have to align with people before I begin a business. It seemed like a good fit. For Macy's [it's about] going after millennial customers. For Avec Les Filles, aligning with a voice that goes across the country was what I was going after. They have an unbelievable executive team. It is the power of Macy's and the power of the department store. It was so important for me to have a direct-to-consumer pricing strategy in front of America's retail consumer. We also were blessed to launch at Revolve.com, which continues to prove that it is a millennial playground. When the brand launched with Revolve, we sold out of goods daily. It was exciting testing the brand in front of the true millennial audience. Seeing how it performs at Revolve has also been very exciting for me and for the future of Avec Les Filles.
What did you learn at BCBG?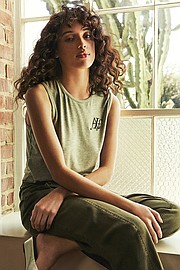 One thing my BCBG schooling taught me is what kind of leader I wanted to be and what kind of corporate culture I wanted to create. I got to learn people skills at BCBG. Business starts with heart and starts with people. People are business. It was one of the biggest gifts I took away from BCBG. How to keep a team of people inspired and aligned with a vision. People who lead with ego give themselves a quick climb and a hard fall. People who appreciate their team and the amount of work it takes to make it happen—they are the people I want to emulate. When I saw people over the years with a team spirit, for me I always felt that they were going to win, and they did. They were the successful ones who knew how to maximize people's assets and how to achieve on an operations front. I saw so many fantastic people come in over the years at BCBG and really make things happen. They were the ones who built timeless items or created a business from the ground up. They could surround themselves with like-minded people and work with a lot of humility and kindness. It comes back to a lot of simple things—loving your job, inspiring others, making beautiful product and leaving something tangible that continued to grow past its potential.
What is next for Avec Les Filles?
We are very excited for our handbag and outerwear launch at the end of this year as well as our jewelry and intimates Spring takeoff. The brand will continue to embrace the millennial girl and extend into all parts of her lifestyle. We are exploring some fun initiatives—as well as the opening of our Los Angeles pop-up shop this month. We are really excited to run the business every day and continue to get faster at getting great product to the floor in record time.
Will you open a permanent Avec Les Filles shop?
I like pop-ups for right now. If I dive into bricks-and-mortar, it would be later with an eye on experiences. I have five kids, and between the world of Avec Les Filles and our pop-ups I think I will just hold for a minute and smile.