RETAIL
Paige Charts Stylish Path With New Stores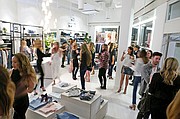 A few months after the Paige brand introduced its first design collaboration, Rosie HW X Paige, the Los Angeles–headquartered premium-denim brand, is embarking on a retail rollout.
On April 27, the company celebrated a grand opening of a new boutique in Los Angeles' exclusive Brentwood section. In May, it is scheduled to produce a soft opening of a boutique at the Malibu Country Mart retail center in Malibu, Calif. Also this summer, it is scheduled to open a boutique in Austin, Texas, said Paige Adams-Geller, the brand's cofounder and creative director.
In a time of great change and tumult in retail and apparel, Adams-Geller said that her privately held company was enjoying stable growth. She declined to state her company's sales. But she said sales enjoyed a double-digit increase in the first quarter of 2017 in a year-over-year comparison with the same quarter of the previous year. The new stores will add a dozen or so new employees to a company with a staff of around 208 people. The brand will continue traveling the same course that it has been traveling.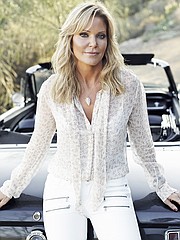 "We're happy with our partners, TSG Consumer Partners," she said. "I am grateful that we've had partners that have let us continue to see our vision come to life and have been supportive. It's been a blessing to have like-minded partners investing in the company."
Adams-Geller started Paige in 2004 during the premium-denim boom in the Los Angeles and California fashion business. During those days, new denim brands seemed to be introduced weekly. While many of those brands folded, Paige thrived and has been sold at department stores such as Nordstrom and Bloomingdale's, e-commerce emporiums such as Revolve.com, and her line of boutiques. When the Austin Paige store opens, the brand will run eight physical stores and one e-commerce boutique (www.paige.com).
"I think as a brand and as a company we have been resilient," she said." The resilience has taken us a long way. We pride ourselves on focusing on great-fitting product and being dedicated to detail. Yet we still have the cutting edge of design. We focus on fit for men and women. Fit never goes out of style. We pay attention to what the customer wants while being innovative enough to be forward thinking in trend and fabrication while never being complacent."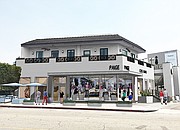 Paige has recently expanded its lifestyle product and has increased its selection of men's styles. Paige brand will offer more sweaters and outerwear as well as wovens, silks and expansion of non-denim bottoms.
For Fall/Winter 2017, it will offer another season of the Rosie HW X Paige collection. The Spring/Summer collection was more what a model wears after work. "For fall, it's a focus on 'model on duty.' There's a lot of shimmer and shine, metallic sequins, and splashier pieces that you'll want to be noticed in."