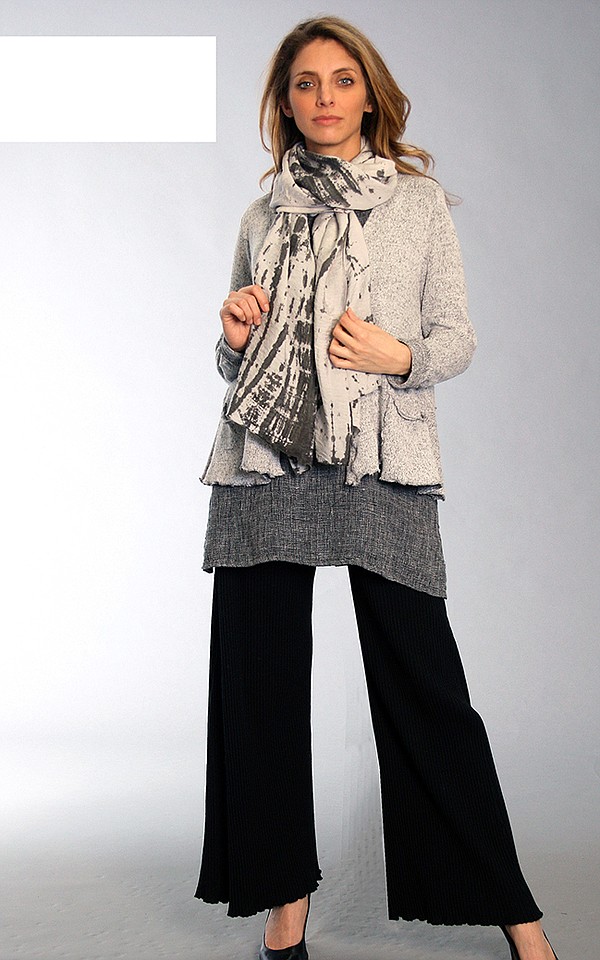 FENINI
Sister Act in Creating the Fenini Collection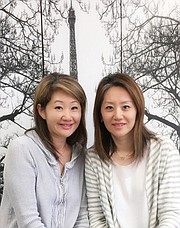 When Fei Yang was a little girl growing up in Taiwan, she was constantly drawing on anything that had a flat surface—napkins, notebooks, newspapers and walls.
She even once drew on her sister's homework, which didn't make the math teacher very happy.
Many years later, Fei and her sister, Sandra, are partners in a misses sportswear company called Fenini, launched in 1993 a few years after Fei graduated from Otis Parsons School of Design, now part of Otis College of Art and Design.
At first, the company specialized in plus-size womenswear that sold at Nordstrom. But over the years, the collection has morphed into misses clothing that sells at mostly specialty stores.
Despite the transformation in sizing, one thing hasn't changed. The company continues to manufacture everything they make in the Los Angeles area with two factories basically dedicated to creating their line.
Using factories in El Monte, Calif., helps Fenini maintain quality control for the primarily garment-dyed styles that encompass mostly tops and bottoms. "Manufacturing here gives us better control over fabric, quality, shrinkage and the quality of the color," said Sandra, who graduated with a degree in electrical engineering from the University of Southern California before her sister tapped her to start Fenini. "We work very closely with the factories, and whatever we need, they will cooperate with us."
Today, Fenini, based in Baldwin Park, Calif., has 12 employees who are busy keeping up with the collections, which come out five times a year.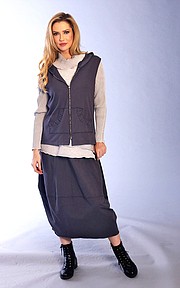 Fenini's trademark is clothing that is simple but stylish. Silhouettes are cut loosely and drape nicely. Principal fabrics are cotton, linen and rayon for a more natural feel.
"Our styles are simple but have more details such as shirring at the waistline to accent a woman's shape or diagonal zippers," Sandra said. "Fei likes to make the design look more interesting with different fabrics."
Many people compare Fenini's styles to the Eileen Fisher collection, except the price points are more reasonable. Fenini's wholesale prices range from $35 to $65. Eileen Fisher's line retails in the $100 to $280 range.
For more information about the collection, visit www.fenini.com or contact the Kristine Cleary Lifestyles showroom at the California Market Center at (213) 622-3733.