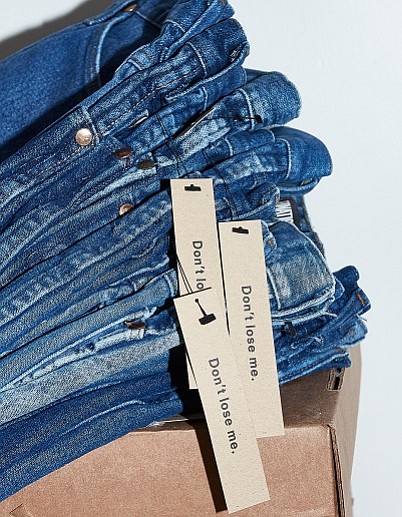 REFORMATION
Reformation's Fight Against Toxic Denim
Los Angeles' Reformation label is one of a handful of companies that has lifted eco-fashion from a cottage industry to a larger scale.
The 8-year-old company recently opened a San Francisco store, the fourth of the company's physical stores. In March, the company opened a pop-up in Miami. In late 2016, it opened a 120,000-square-foot sustainable sewing factory in Vernon, Calif.
Its next big step is to expand its category of denim. It won't be easy. Denim manufacturing does not have a great reputation in environmental circles.
There are a small group of denim labels that make eco-friendly jeans. But mainstream producers of denim clothes have been criticized for wasting thousands of gallons of water and using harmful chemicals. Kathleen Talbot, Reformation's vice president of operations and sustainability, said that her company supports the critique. "Denim is pretty much the worst clothing for the environment," she said.
But the eco-brand was compelled to take on the challenge of making a line of ecologically sustainable denim. America is a jeans country. A market-research company, Statistic Brain Research Institute, which runs a Los Angeles office, found that 96 percent of American consumers own a pair of jeans.
But the manufacture and care of jeans takes 2,500 gallons of water throughout each garment's lifecycle, Talbot said. Reformation was going to find a way to make sustainable jeans—and still be fashionable.
Reformation designers have been researching ways to make a more ecologically sustainable jean, Talbot said. "Basically, we are looking for alternatives to virgin cotton that significantly reduce the impact. And then finishing and dyeing it in the most sustainable way available," she said.
Cultivating cotton takes a heavy environmental toll, according to a recent study from the conservation organization World Wildlife Foundation. It found that 2.4 percent of the world's crop land is planted with cotton, and yet it accounts for 24 percent and 11 percent of the global sales of insecticide and pesticides, respectively.
Reformation seeks to take an environmental turn by not buying virgin cotton and looking for denim fabric that already exists. The company sources surplus vintage denim fabric. "This is a triple win for us," Talbot said. "The fabric is ready to ship, has the right finish and is good for the environment."
If recycled fabric does not meet demand, Reformation sources fabrics with a high content of recycled fabrics. The company's designers also work with fabric mills that will substitute a sustainable fiber such as Tencel for cotton. For dyeing and finishing, Reformation works with companies that recycle water and use methods deemed eco-friendly such as ozone treatments and bio-based softeners.
Talbot estimates environmental savings in Reformation's "Cropped Cigarette" jean. Manufacture of the garment releases four pounds of carbon dioxide and takes 170 gallons of water. The industry standard is 1,435 gallons of water and 32 pounds of carbon to make a similar garment.
Along with the "Cropped Cigarette" jean, which hangs above the ankle, the company also makes skinny jeans that come in indigo and black, a white denim, mid-crop flare and shorts. Some come with frayed hems, others with sequins, skirts and jackets. Retail price points range from $98 to $128. The garments are sold in Reformation's physical boutiques as well as its ecommerce shop at www.thereformation.com.
Mainstream cotton producers say that they should not be counted out in development of sustainable denim. Last year, Cotton Inc., the organization backed by American cotton producers and importers of cotton and cotton textile products, showcased "environmentally responsible" denim manufacturing methods at the company's booth at the Kingpins trade show in New York. Among the eco-friendly products showcased was a concept collection developed by Greensboro, N.C.–based Cone Denim using Swiss chemical company Archroma's EarthColors dye, which is derived from cotton plant materials.
Only a few eco-friendly denim labels have made garments that survived on the market. In 2005, the New York– and Dublin-headquartered Edun brand stated that its mission was to sell environmentally sustainable clothes. Cofounded by U2 frontman Bono, it was retailed at some high-end department stores during its debut. Amsterdam-headquartered line G-Star started a line, "RAW for the Oceans," that uses plastic culled from the ocean for its denim fabric. Like Edun, there's a celebrity angle. In 2014, G-Star developed the eco-jean using fabric from Bionic Yarn, which is owned by music star Pharell Williams. In 2016, Williams became a co-owner of G-Star. Ventura, Calif.–based Patagonia also introduced a line of organic, fair trade–certified stainable denim in 2015.
Doing eco denim remains a tough venture, Jeff Shafer said. He is founder and chief creative officer for denim brands Agave and Bluer. "Ecologically sustainable denim is a bit like saying 'clean coal.' It's better, but better is just a tiny improvement," Shafer said.
However, Los Angeles–area jeans manufacturers are gaining more of an interest in making ecologically friendly denim, said Jazmin Kim, cofounder and creative director of the S.M.N. label, which is based in Vernon and sells its denims at Ron Herman.
But the will to make eco-friendly clothing rests solely with the manufacturer. "In Los Angeles, people use a lot of chemicals compared to Europe and Japan, where there are more regulations," she said.
It took a lot of work to make an eco-friendly jean. "We went through so many steps to reduce water usage," she said.