As of Wednesday, May 17, 2017
Gentle Monster is a 5-year-old South Korean eyewear company that has been selling its eyeglasses and sunglasses to U.S. shoppers primarily through Nordstrom.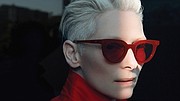 But the company is slowly expanding its retail footprint. Right now, Gentle Monster has only one eyewear store in the United States in Manhattan's Soho district. But by the end of the summer, it will have a second U.S. location in downtown Los Angeles right next to the Urban Outfitters emporium on Broadway.
Gentle Monster sells premium sunglasses and eyeglass frames that start at about $250 and climb upward. It is doing a collaboration with actress Tilda Swinton.
Work on the interior of the gutted-out space at 816 S. Broadway started two weeks ago and should take another 12 weeks to complete.
The Gentle Monster store will have some good competition on the block. Mykita, a Berlin eyewear store, is located across the street. Mykita is known for its hand-assembled prescription frames and sunglasses made in its own facility in Berlin and that sell for around $450 to $500.