TRADE SHOWS
Obituary: Menswear Executive and Trade Show Organizer Larry, Hymes, 72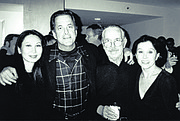 Menswear executive Larry Hymes died on May 11 of heart failure. He was 72.
The New York–born Hymes was best known as a West Coast sales representative for menswear brands such as Louis Alvear Inc.
In 1997, Hymes and three partners—Hyela Makoujy and Herbie and Stevi Goetz—founded the regional menswear show West Coast Collective¸ which ran for five years in Los Angeles before relocating to Las Vegas in 2002 as The Exclusive. When the show was acquired in 2007 by Business Journals Inc. and renamed MRket, Hymes was the only original partner to remain on with the trade show. He retired from MRket in 2015.
"Larry was a bright light in so many of our lives—genuine, compassionate, funny, always upbeat and positive," said Karen Alberg Grossman, editor-in-chief of MR Magazine, a partner of the MRket show. "He truly loved his work in the menswear industry and was so good in sales because he connected with customers as people, not just as clients. I miss him already."
His former colleagues at the West Coast Collective and The Exclusive recalled his kindness, his humor and his love of the industry.
"One of the most important things I can say about him is that in this dog-eat-dog world, Larry would never kick a person when they were down," said Stevi Goetz. "His departure leaves a big void in the menswear industry."
Goetz's daughters Amy Freeman-Cohen and Kelli Freeman also worked with Hymes at The Exclusive.
"I am very sorry to have to say goodbye to a long-time friend and colleague," Freeman-Cohen said. "Larry Hymes was the ultimate fashionista. He was a character in many ways and true blue to his true friends. The experience of working with him at The Exclusive was constantly exciting and he always kept us on edge."
Freeman recalled Hymes as "a colorful, passionate person and loyal friend."
"He'll be missed," she said.
Michael Kofoed, brand director for True Grit and Dylan, knew Hymes for more than two decades and considered him a good friend.
"He encapsulated the old tradition of the men's garment industry from years gone by and was able to transition to more modern approach to our business—although he was kind of kicking and screaming his way through the changes," Kofoed said. "For those who got to work with Larry closely, we always found great humor in this approach. He was kind of like a Don Quixote character, chasing windmills and trying to slay dragons. I respect Larry—as so many do. I would have to say he finished the race with great dignity and character."
Irene Becker met Hymes in 2008 when she purchased Alandales, a menswear store in Culver City, Calif. Hymes and Alandales buyer Bobby Yosten had been longtime friends. When Becker took over the store, she added a barber shop and Hymes came into the store regularly to get his hair cut.
"When I met him he was working with MRket," Becker recalled. "He would ways approach me to try new collections. He had a huge influence in the business, but for me it was personal. He's going to be missed."
When the West Coast Collective moved to Las Vegas, it left a hole in the market for a West Coast trade show for upscale menswear. Longtime menswear sales rep Ken Haruta stepped in and launched the West Coast Trend Show.
"After I started my show in LA, Larry would always tease me about how he built the business for me," Haruta recalled. "He was a good friend. Larry had an impact on a lot of people; he was respected by a lot of people. Everybody loved Larry."
An avid pickleball player, Hymes was also very competitive, Haruta recalled. When a group of apparel industry folks went bowling after a day at the trade show, Hymes challenged Haruta to play for money.
"He beat me the first time," Haruta said. "But when he bet me $20, I beat him—barely. The second time I beat him worse."
Haruta asked Hymes to sign the $20 bill with the words "I got hosed by Ken Haruta." Haruta passed the bill on to Hymes' friend Yosten, the buyer at Alandales, to use the next time the two played poker.
"Larry was competitive, but he was a good sport," Haruta said.
Hair stylist Cheryl Provencio met Hymes when she started working at the Studio A Barber Shop at Alandales. Over the years they also grew to be good friends.
"He was really particular about his appearance," Provencio said. "But he had a heart of gold."
Provencio recalled Hymes' passion for the apparel industry.
"He was so full of life and always looking forward to his next trip," she said.
He was also devoted to his daughter, Nicole, who also works in the apparel industry.
"He was so proud of her," Provencio said.
Hymes is survived by his daughter. A service was held in New York on May 17. A West Coast memorial is being planned.