RETAIL
Aussie Retailer Showpo to L.A.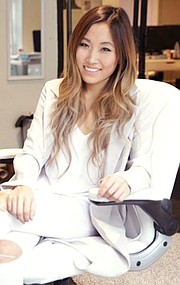 When Sydney entrepreneur Jane Lu started posting pictures of fast-fashion styles on social-media sites for her Australian e-commerce label, Showpo, she was surprised that she got interest from California.
When Showpo's denim, swim and maxi dresses started to sell in the U.S. in 2012, she found herself going to her local post office to send product to California. Fast forward to the present and Showpo makes 30 million in Australian dollars. By 2020, Lu forecasts the business could earn nearly AU$100 million, and 50 percent of that sum could come from business from California and the rest of the United States.
Lu hopes to strengthen her bid for California business. By the end of this year, she intends to hire five people, a team that would include a buyer, in the Los Angeles area. Since Australia and California are located in different hemispheres and have different seasons, a Los Angeles team is needed to shape a merchandising program that would be on trend and in season for California and the United States. However, Lu noted that beach and casual styles are at the forefront of fashion in Los Angeles and her hometown of Sydney. She forecast that the company would remain an e-commerce company and not invest in bricks-and-mortar retail.
Along with casual clothes, Showpo makes women's officewear. Core price points for her clothes are $40 to $60 in American dollars. The label also makes prom dresses and has made a big splash in the "festival" category. In April she and some friends attended the Coachella Valley Music and Arts Festival, one of the top events in America's music festivals. "We saw a lot of Showpo clothes at Coachella," she said.