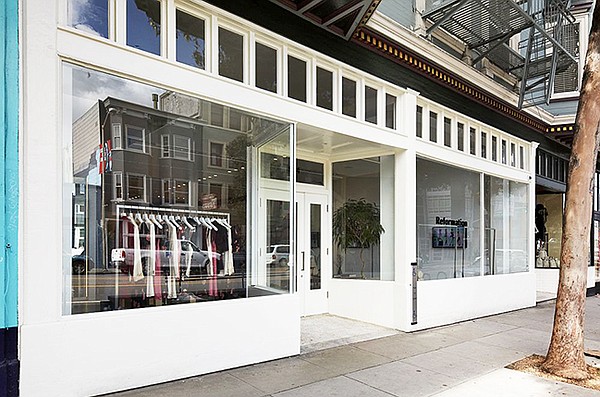 REFORMATION
Reformation Brings Eco, Tech Store Concept to L.A.
Reformation made fashion headlines in Northern California this year when it opened an eco-friendly boutique that featured retail tech such as touchscreens. The women's fashion line recently announced that it will bring its new store concept to its hometown of Los Angeles.
On May 30, it is scheduled to open a 2,140-square-foot boutique to the Platform boutique center in Culver City, nine miles west of downtown Los Angeles.
On June 6, the company is scheduled to open a 3,275-square-foot boutique at 8000 Melrose Ave. near the cross street of Fairfax Avenue. When the Melrose store opens, Reformation will run a chain of six stores. Reformation's current Los Angeles store, located at 8253 Melrose Ave. by a landmark pink building that houses the Paul Smith flagship, will remain a Reformation store. But it will sell vintage clothes from Reformation, according to a brand representative.
Like the San Francisco store, the new Los Angeles–area stores will feature touchscreens in the dressing rooms and throughout the stores. The screens will keep track of garments and items in the store and also help customers in dressing rooms. Someone trying on clothes in a dressing room could choose a garment style from the screen and the styles will be brought to the dressing room.
Each fitting room is equipped with a "magic wardrobe." It will be stocked with garments selected by the consumer trying on clothes in the fitting room. The consumer can request additional garments be placed in the magic wardrobe by tapping the screen. The shopper also can tap the screen to inform sales staff that she will make a purchase. A sales associate will prepare purchases for a sale.
Dressing rooms are also outfitted with customizable lighting and headphone jacks so shoppers can bring their own music.
The stores will aim to provide ecologically sustainable services by offering reusable totes and hangers made from recycled materials.
Walls will be coated with ecologically friendly, low-VOC paints, or paints that release few chemicals into the atmosphere compared to higher-VOC paints.
In November 2016, Reformation opened a 120,000-square-foot sustainable factory in Vernon, a short drive south of downtown Los Angeles. The Reformation facility employs 300 people, including some former American Apparel sewers and staff, according to a Reformation statement. In 2017, the brand introduced two new categories, swim and children's clothing.