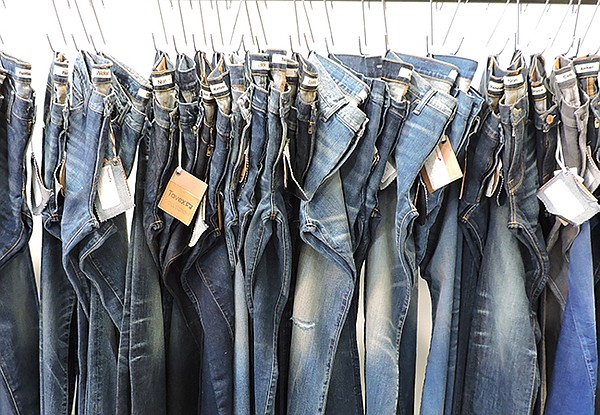 ARTISAN CLOTH
Artisan Cloth's New L.A. HQ Showcases International mix of Premium Denim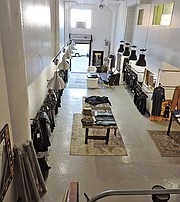 Brad Alden Mowry and Danielle Lee are putting the finishing touches on the new 2,600-square-foot showroom space in downtown Los Angeles for their denim textile company, Artisan Cloth.
The husband-and-wife team will officially host a grand-opening party in December in partnership with Invista, the maker of Lycra, and Tavex, the Mexican denim mill that was acquired two years ago by Ropa Siete Leguas.
Four years ago, Mowry opened Artisan Cloth to showcase new developments from Japanese denim mill Kurabo. The longtime denim-industry executive provides development and marketing for the Japanese denim mill as well as the company's wovens division, which is made in Japan and Thailand, and premium denim made in China through a joint venture between Kurabo and Hong Kong–based H.W. Textiles Co. Ltd. Mowry represents Kurabo and its partners nationwide through Artisan Cloth's showrooms in Los Angeles and New York.
The newest development for Artisan Cloth is the addition of Tavex to the showroom.
"While we weren't looking to add any new mills, Tavex approached me in July about a new partnership," Mowry said.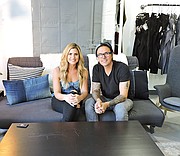 Tavex has invested in new equipment and staffing for the company and is looking to expand globally, Mowry said. The Mexican denim mill saw Mowry's existing representation of Kurabo as complementary rather than a conflict. Mowry is representing Tavex on the West Coast.
"Whether a brand is working out of Asia or the USA, we have great products to offer that logistically make sense," Mowry said.
The range of offerings at Artisan Cloth also allows brands to shift production according to price point and production volume. For example, a company might do a limited-edition capsule collection using Kurabo fabric from Japan. If the capsule expands for a second season in larger volumes, the company might source fabric from H.W. The largest-volume orders are sourced from Kurabo's wovens facility in Thailand.
"They might develop a Japanese twill, and then as the program grows they will ask us to counter-develop it when the volume increases," Mowry said.
Passion Project
The Artisan Cloth space in downtown Los Angeles also houses The Jeans Project, a philanthropic denim brand launched in August by Brad Alden Mowry and Danielle Lee in partnership with Japanese denim mill Kurabo. The direct-to-consumer brand is sold at pop-up events and online. Proceeds benefit the Dream Center and other charities.
The Los Angeles–based Dream Center is a faith-based charitable organization that helps individuals and families in need across the country. The charity provides assistance such as food and clothing as well as longer-term services such as addiction-recovery programs and adult education.
Kurabo provides stock fabrics for The Jeans Project collection, which has the motto "looking good, doing good."
The line features three women's styles, including two skinny silhouettes and one slim crop style. For men, there are five styles: two selvage-denim jeans, two slim cuts and one skinny.
"It's all made in America," Lee said. "We're using only Japanese denim, and every purchase goes back to charity."
Prices are $149 for all styles, except the selvage style, which is $169. For more information, visit http://thejeansproj…">thejeansproject.com.
This also allows companies to access different price tiers. Kurabo's Japanese fabrics are priced at about $7 to $9 per yard. There's a Kurabo Global option, which uses Japanese greige goods, which are finished inChina. Those fabrics are priced at approximately $5.50 to $7 per yard. For H.W.'s Chinese-made goods, prices range from about $2.50 to $5.
While Kurabo's Japanese-made goods exhibit the same level of quality buyers expect from Japanese denim, Mowry said the quality of the Kurabo Global and H.W. fabrics is also very good.
"The innovation out of China is unbelievable. It's really forward," he said.
Adding Tavex to Artisan Cloth's offerings gives companies looking to produce under NAFTA—or locally in LA—a sourcing option in this hemisphere.
Artisan Cloth works with a range of brands from large customers such as H&M and Uniqlo to premium brands such as Frame, AG and Paige.
Decades of denim
In addition to denim sourcing, Mowry provides technical and creative consulting for denim makers. This could be traveling with designers to the factory or it could be setting up development systems for a company to realize efficiencies in fabrics, washes and costing.
"We're not really salespeople," Mowry said. "We're product people."
Mowry got his start working with LA's wash houses before relocating to New York, where he spent seven years at Jones Apparel as a vice president. (Mowry described his time at Jones as "grad school for fabric and wash.") He returned to Los Angeles to run the West Coast office for Olah Inc., the denim sourcing company that runs the Kingpins trade show. He remained with Olah for nine years until he left to open Artisan Cloth.
Jeans neighborhood
Artisan Cloth has been located in the same downtown neighborhood for three years, first in a space across the street from the current location at 1308 Factory Place. The company then moved to a space in its current building on an upper floor. The new showroom is located on the ground level of the building with a dedicated customer parking space out front.
"Usually clients will swing by because it's so easy," Lee said.
There are several denim brands located nearby, including J Brand, 7 For All Mankind and Lucky Brand. The Artisan Cloth building also houses the Factory Kitchen restaurant, which will be providing food for the opening party next month.
For more information, visit artisancloth.com.