RETAIL
Vimmia Opens First Shop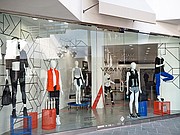 Featuring mannequins cast in yoga poses, the first boutique for the activewear brand Vimmia recently opened in Los Angeles' exclusive Brentwood neighborhood.
Ardy Raminfar, the founder of Vimmia, said that the new store would be the first in a rollout of boutiques for the 4-year-old brand. In upcoming years, Raminfar said, he would like to open shops in Denver, Dallas and New York City—and possibly more shops in Los Angeles County.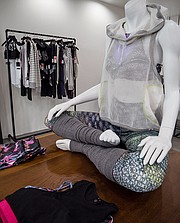 "It's a huge opportunity to be independent and grow a brand direct-to-consumer," he said of the new 1,400-square-foot shop in the Brentwood Gardens retail center, located on the 11600 block of San Vicente Boulevard. Neighbors include boutiques for Ron Herman and Madison.
The brand uses fabric with thermoregulation properties, Raminfar said. The properties help the body keep a core temperature even when working out in a hot studio or running on a cold day, Raminfar said. He hopes that the contemporary designs and styles of his brand's activewear will influence people to wear Vimmia post-exercise.
Vimmia makes leggings, tops, pants and jackets for women. Retail price points range from $58 for bras to $124 for some leggings. Raminfar declined to give wholesale prices. However, the company will continue to wholesale its product.
Earlier this year, Vimmia introduced a men's line. It also produces the plus-size line CurV and maternity activewear clothes.
RELATED STORIES