MANUFACTURING
Apparel Marts Across the Country Are Figuring Out How to Adapt to Changing Times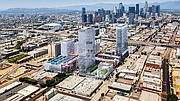 Six months after Brookfield acquired a controlling interest in the California Market Center in Los Angeles, plans are still swirling around about how the half-century-old complex will be modernized and updated.
As rumors and conjecture buzz around the building, Brookfield still hasn't released definitive plans about what the future brings beyond the fact that more creative office spaces will be developed in an area of downtown Los Angeles undergoing a major Renaissance.
"Brookfield is still fine-tuning a lot of the design," said Chris Penrose, a real estate agent with CBRE, hired to lease the revamped space at the CMC, which is 50 percent vacant. "But I can tell you, there is going to be a night-and-day difference in the look and feel there."
Brookfield, which in June spent $440 million to acquire a controlling interest in the building from Jamison Realty, has already said it wants to develop more creative office spaces and make the complex's first floor more retail and restaurant centric with businesses opening on to Main and Ninth streets.
Other plans include possibly opening up the ground-floor atrium and reconfiguring the two-story cube building that now houses a UnionBank office in front of the complex. "Retail is going to be a big portion of this renovation, with good food, beverages and fashion," Penrose noted. "Creative office space will be the focal point. They really want to go after the fun, hip, creative tech and apparel tenant they think the area will attract."
The California Market Center, like many merchandise and apparel marts around the country, was built decades ago when wholesalers and retailers operated under a different business model and time frame. Big department stores were king of the retail world, and e-commerce was beyond anyone's imagination.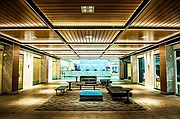 Now, with vacancies mounting, several merchandise marts across the country are redrawing their specs and going beyond tried-and-true showrooms and exhibit spaces to fill the void with other businesses not related to apparel or furniture.
A prime example of this is the LA Mart, located south of downtown Los Angeles. The 13-story structure has been home to a number of furniture and gift showrooms since it opened in the 1950s.
Once owned by the Kennedy family, the nearly 60-year-old structure at 1933 S. Broadway was sold in 2012 to PHR, a commercial real estate company whose president, Glendale physician Ara Tavitian, envisions major changes for the building and the surrounding area.
A few years ago, the LA Mart established The Reef, reconfiguring some of its floors to provide incubator space for new creative firms and artists. But the biggest change on the drawing board is taking 7.5 acres of parking spaces on both sides of the building and creating a whole new world.
PHR submitted plans to the city to create a $1.2 billion residential, hotel and retail complex called Broadway Square Los Angeles, which will one day encompass nearly 900 condos and 549 apartments. There will be shops, restaurants, bars and a grocery store as well as a 19-story hotel.
In addition, the LA Mart/Reef building will be renovated and feature a rooftop event space. The front lobby was recently updated.
To help with the project, the developers hired the well-known San Francisco architectural firm Gensler to design what will become a new LA neighborhood whose plans were approved last year by Los Angeles city officials.
The Windy City
The largest merchandise mart in the United States is located in Chicago. It is so large that the 25-story structure, which encompasses 4.2 million square feet of space, is classified as the second-largest office building in the United States—after the Pentagon. When it opened in 1930 by the now-defunct Marshall Field & Co., it housed various furniture, gift and apparel showrooms for department-store buyers. But several years ago, vacancies started to creep in.
In 1998, Vornado Realty Trust bought the structure from the Kennedy family and kept the showroom business model going. But in 2008 and 2009, during the height of the recession, the furnishings and apparel industry got hit hard and vacancies increased.
Vornado took a look at the future and saw the world of technology—much like the owners of the California Market Center. Vornado soon started to convert showrooms into creative office spaces that attracted companies such as Google, Yelp, PayPal and eBay. Motorola Mobility left its headquarters in the Chicago suburb of Libertyville to take over four floors of the mart.
To keep the building fresh, Vornado in 2016 took the wraps off a $40 million renovation that showcased a 50-foot-wide marble staircase connecting the first and second floors and a redesigned food hall. Today, the Merchandise Mart is almost 100 percent occupied.
In the heart of Texas
For years, Dallas has been the epicenter for the region's apparel and fashion buyers. It is home to two apparel marts: the Fashion Industry Gallery and the Dallas Market Center.
The Fashion Industry Gallery opened in 2004 with a dozen permanent showrooms. It how houses 50 women's apparel showrooms and is 100 percent leased, said Matt Roth, FIG's chief executive. "We are really focused on the women's contemporary market. We don't go outside of that because we found our little niche," Roth said.
But FIG is on the move. In 2007, the two-story contemporary building was sold by Brook Partners Inc. to Hunt Consolidated Inc., with FIG staying on with a master lease that was to expire this year. This year, that lease was extended to the end of 2019.
Brook Partners now owns 13 acres and several buildings in the hip Design District of Dallas, where it is planning to rehab a few structures. Once the renovations are completed, FIG will move to the up-and-coming area.
FIG may add a few more showrooms in its new space, Roth said, but he doesn't want to expand too much. "The regional stores that shop here want to get here, do their buying and get back to their stores," he explained. "Ten or 15 years ago, it was more about spending a week in Los Angeles, Las Vegas or elsewhere, but the economy has changed."
The Dallas Market Center is another huge complex that for decades has been home to 1,500 apparel, accessories, furniture and gift showrooms housed in three buildings.
But in recent years, with the change in the retail industry and the strength of e-commerce sales, the Dallas Market Center owners noticed that more apparel stores were carrying gifts and home-décor items, and gift stores were beefing up their inventory with accessories and apparel items.
So, Dallas decided to remodel the oldest building in the complex—a two-story mid-century structure built in 1957 that originally housed furniture showrooms. More recently, botanical showrooms filled the space.
A new remodel of the building, which is now called The Interior Home + Design Center, has floral and holiday showrooms on the second floor. The first floor has open-daily home-furnishings and décor showrooms, with some now featuring exterior windows and doors.
The DMC has also seen certain apparel categories grow. "When the apparel showrooms several years ago moved into our World Trade Center, bridal was a temporary business for us," said Cindy Morris, the Dallas Market Center's president and chief executive. "Now, we have a nice group of permanent bridal showrooms. The same happened with Western wear. It was temporary and now we have a group of permanent Western-wear showrooms."
Stronger apparel categories have also influenced the AmericasMart Atlanta in Georgia. It recently added 70,000 square feet of social-occasion showrooms and space as demand has grown. The new area—which shows prom, pageant and quinceañera clothing—debuted last August with special-occasion dress designer Jovani taking over 11,000 square feet of space on the 14th floor.