RETAIL
Buck Mason Opens in NYC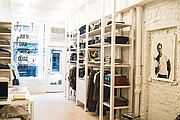 Downtown Los Angeles–headquartered California basics brand Buck Mason opened a New York boutique on Nov. 11. Buck Mason has been expanding from its roots as a pure-play e-tailer by opening one bricks-and-mortar store each year since 2015. That year, the elevated basics brand opened a boutique on Abbot Kinney Boulevard in Los Angeles' Venice section. In 2016, the company opened a boutique in Los Angeles' Silver Lake district.
The 400-square-foot New York shop is located at 235 Elizabeth St. in Manhattan's Nolita district, said Sasha Koehn, Buck Mason's cofounder. "Since Eric Allen and I launched Buck Mason in 2013, we've shipped close to 100,000 tees to Lower Manhattan, so it was only a matter of time before we set up shop here. Of all the neighborhoods in the city, Nolita has always been our dream location. It's got a similar feel to Venice—lots going on but also a nice respite from the downtown bustle," he said.
The boutique will sell Buck Mason–brand styles, which are inspired by Americana looks. The brand makes wool knits, jeans made from Japanese denim and T-shirts with curved hems. It also makes polo shirts, hoodies, leather jackets and a collaboration collection of hats made with the Stetson brand. Most of its goods are manufactured in America, Koehn said.
Koehn said that the brand will open more stores in 2018, but he declined to say how many or where the stores would be located.
RELATED STORIES