RETAIL
Hermèsmatic, C Magazine Open Pop-ups at Westfield Century City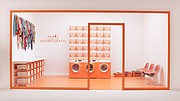 Paris fashion house Hermès will be taking a headlong dive into color at the Hermèsmatic pop-up, which opened Nov. 10 at Westfield Century City and is scheduled to remain open until Nov. 19. Hermèsmatic features orange washing machines that have been given the task of overdyeing silk scarves. One of the washing machines dyes the scarves a denim blue. The other dyes them a fuchsia pink. The overdyed scarves are transferred to a tumble dryer and, after a couple of days, given to the consumer with a unique color, according to a brand statement.
The Hermèsmatic pop-up will travel to Vienna as well as Bologna and Palermo, Italy. It had previous engagements in New York City and Manchester, England, this year.
After Hermèsmatic bids an adieu , C Magazine will open a Westfield Century City pop-up. Named State of Mind Curated by C Magazine, C's editors, in collaboration with Martha Mulholland, will feature ready-to-wear by California labels such as Rodarte, Libertine, Greg Lauren, Rosetta Getty, JC Obando Co., CFDA/Vogue Fashion Fund winners Elder Statesman and Brock, along with hats from Nick Fouquet and jewelry and skin-care products.
Heather Vandenberghe, Westfield chief marketing officer, U.S. operations, said that State of Mind will be the first of a string of pop-ups.
"When we first envisioned a rotating pop-up at Westfield Century City, the goal was to bring in partners who would deliver a unique, one-of-a-kind experience to our guests. C Magazine was the first brand we approached because we trust their taste, their curation and their ability to blend the finest elements of California living in a way that feels both seamless and aspirational," she said in a statement. The State of Mind pop-up will remain open until Jan. 2.
RELATED STORIES