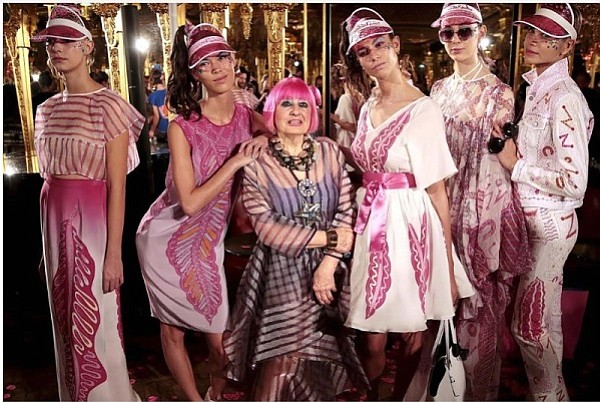 Designer, Guest Lecturer, Icon: Zandra Rhodes
Designer Zandra Rhodes has dressed everyone from rock royalty to actual British royalty. The icon designer, known for her pink hair and love of bright exuberant colors, will discuss her career designing fashion and costumes at a Nov. 28 event organized by The Chimaera Project at the Huntington Beach Academy of Performing Arts in Huntington Beach, Calif.
Rhodes is the founder of the Fashion and Textile Museum in London and her designs are part of the permanent collection at the Metropolitan Museum of Art in New York.
Rhodes' lecture will be held at 3 p.m. and will conclude a five-week mentoring partnership between The Chimaera Project and the Huntington Beach Academy of Performing Arts, an arts magnet program for academic, artistic and aesthetic education. The Chimaera Project is an organization "dedicated to empowering women filmmakers to fearlessly create, inspire and lead." The group "recognizes the collective voice as a catalyst for social change" and has set a goal "to create change by demonstrating an inclusive model."
For more information or to RSVP for Rhodes' lecture, email eiverson@hbuhsd.edu.