MANUFACTURING
IndieSource Founders named to Forbes '30 Under 30'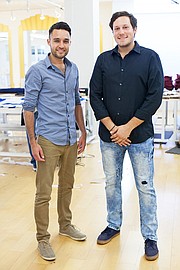 Indie Source founders Zack Hurley and Jesse Dombrowiak were recently named to Forbes' "30 Under 30," the publication's annual list of rising stars under 30 years old in a host of industries. Hurley and Dombrowiak were named to the list's Manufacturing & Industry category.
Founded in 2012, Indie Source had revenue of $2.3 million last year, according to Forbes.
Indie Source offers full-service apparel development and full-package production in Los Angeles as well as marketing services such as website development, look book/catalog creation and influencer marketing.
Hurley, Indie Source's chief executive officer, and Dombrowiak, the chief operating officer, saw a demand for domestic manufacturing with lower minimums to allow independent designers and growing brands to enter the market.
"It's a complex supply chain," Hurley said. "Designers have no way to navigate it. We want to be the single place for fashion brands looking to get out to market and build a successful business."
Indie Source's customers include labels selling wholesale as well as brands building a direct-to-consumer business. And while some come to Indie Source looking for small minimums and sample development, the company is positioned to help growing companies produce larger orders as well.
"Some emerging designers are killing it. They're doing hundreds of thousands of units," Hurley said. "We are designed and built to help them scale."
The company can do everything from T-shirts to leggings to a complicated jacket. Pricing is customized based on the complexity of the garment.
"We know how long it takes for patternmaking and sewing and all the components involved," Hurley said.
The fashion industry in Los Angeles is fragmented, Hurley said, with designers "bouncing from this sewer to that marking and grading guy and not knowing how it all comes together."
"We are pulling these fragmented components together," he said.
To be successful, Hurley said, the local industry needs to understand how to work with a broad base of companies.
"We are only as strong as our supply chain. We all need to evolve together," he said. "We're looking for partners that understand that at every level of the supply chain."
To help connect with designers and emerging brands, Indie Source recently started a Facebook group for independent designer and entrepreneurs at www.facebook.com/groups/indiedesigners.
For more information about Indie Source, visit indiesource.com.